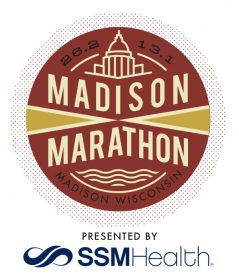 In a multi-year partnership with Race Day Events and Madison Festivals, Inc., SSM Health becomes the presenting sponsor and official medical services provider.
Madison Festivals, Inc., in collaboration with Race Day Events, has signed SSM Health as the presenting sponsor of Madison Marathon, Run Madtown, and Lake Monona 5K/20K. As part of a new events partnership agreement, SSM Health will be the official medical services provider for all three race weekends.
The relationship between SSM Health and Madison Festivals, Inc. began in 2016. It's become a partnership both companies are looking forward to expanding in the future. 
"We are thrilled to have SSM Health as the presenting sponsor and medical services provider for these events," said CJ Werley, Sponsorship Director for Race Day Events & Madison Festivals, Inc. "Our partnership has slowly grown over the past three years, and this is a beautiful evolution of the relationship. We look forward to their services and have complete confidence in the entire SSM Health team."
"These events mirror our mission and values," said Jan Gentry, Regional Marketing Manager for SSM Health. "The ability to expand our support of Race Day Events & Madison Festivals, Inc. is a great way to contribute to the communities we serve." 
As the official medical services provider, SSM Health, in conjunction with Madison Emergency Physicians (MEP), will provide finish line medical services and oversee the medical operations at each race, ensuring a premier race experience for all athletes and spectators. 
SSM Health will also receive featured pre-event and on-site branding at each race, as well as offer health-centric features such as misting tents for May's Lake Monona 20K and Run Madtown races and heat sheets for November's Madison Marathon. Under the terms of the agreement, SSM Health will continue its sponsorship at the Labor Day weekend Taste of Madison and the IRONMAN Wisconsin affiliated race, IRONKIDS Wisconsin, held each year in September.
About the Events
Founded in 1978, the Lake Monona 5K/20K is one of Madison's oldest and most iconic races. Taking place on the first Saturday of May, the Lake Monona 20K offers a scenic course that loops around the shore of beautiful Lake Monona with spectacular state capitol skyline views.
Run Madtown is a Saturday evening Kids, 5K & 10K and a Sunday half Marathon over Memorial Day weekend. The Madison Marathon and Half Marathon are run on Sunday morning of Veterans' Day weekend. Both races are kicked off with two-day race expos at the historical Monona Terrace, and host start and finish lines and post-race parties on Madison's iconic State Capitol Square. 
About SSM Health in Wisconsin
SSM Health is a Catholic, not-for-profit health system serving the comprehensive health needs of communities across the Midwest through a robust and fully integrated health care delivery system. The organization's more than 40,000 employees and physicians are committed to providing exceptional health care services and revealing God's healing presence to everyone they serve.
In Wisconsin, SSM Health employs 14,000 people, serving the south-central part of the state through a community-based network of leading physicians/providers, and inpatient and outpatient care facilities. The organization provides high-quality coordinated care across seven hospitals, ten post-acute care facilities, and more than 85 physician offices and other outpatient care sites. SSM Health also serves 425,000 lives through Dean Health Plan, making it one of the largest and most diversified HMOs in the Midwest, and serves more than 4.5 million people across 34 states through Navitus, a pharmacy benefit management services company. 
Madison Emergency Physicians  
Madison Emergency Physicians (MEP) was established in 1983 and has devoted itself to excellence in Emergency Medicine. MEP is a democratic, private practice group of 55 physicians and 26 physician assistants specializing in Emergency Medicine (EM).  
About Madison Festivals, Inc.
Incorporated on April 5, 1993, Madison Festivals, Inc. (MFI) was formed exclusively to organize and manage charitable events for the education, participation, and entertainment of the public in the area of Madison, Wisconsin. These events enhance Madison's reputation as a great city to live in and visit, build community around volunteering, supporting local businesses and provide over $100,00 annually to many local charities and non-profits. MFI owns the Taste of Madison, Madison Marathon and Run Madtown.
About Race Day Events
Race Day Events is an event production company located in Madison, Wisconsin. Founded in 2006, Race Day Events owns over twenty running and multisport events throughout the state and provides a host of production services to over 300 events throughout the nation. Race Day Events is the exclusive production company for Madison Festivals, Inc.'s Run Madtown, Taste of Madison, and Madison Marathon.
Media Contact
CJ Werley, Sponsorship Director
Race Day Events & Madison Festivals, Inc.
Phone:  (608) 338-8015
cjwerley@racedayeventsllc.com