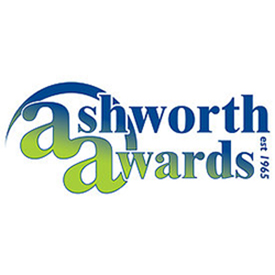 Industry Leader Named Official Medallions and Awards Partner
WICHITA, Kan. – Running USA, the national trade organization for the sport of running, is proud to announce a new three-year partnership with Ashworth Awards. The agreement will continue to showcase the Massachusetts-based company as a valued partner, while being named the Official Medallions and Awards partner of Running USA.
Since 1965, Ashworth Awards has celebrated the hard training and race day achievements of runners around the world. Working with race directors to create customized medals, unique awards or hand-crafted trophies, the company continues to inspire and impress runners, adding an extra layer of excitement to races of all types.
"The sport of road running is in a state of reinvention, as race directors look to increase race weekend experiences for their runners," said Rich Harshbarger, Running USA CEO. "The uniqueness of a finisher medal matters more than ever and we are proud to be partners with Ashworth who is a leader in creating memorable medal experiences."
In addition, Ashworth Awards will remain as a presenting sponsor for the Running USA Industry Conference, with the 2018 edition set to take place in Austin, Texas, February 11-13. As one of the annual highlights of the conference, Ashworth Awards will continue to hand out medals to finishers of the morning runs, showcasing their unique design and customization for each Running USA Industry Conference location.
We are thrilled to commit to another three-year partnership with Running USA as the Official Medallions and Awards partner," said Dan and Kim Ashworth, co-owners of Ashworth Awards. "We believe it is important to give back to our sport and be involved on every level. Runners train so hard and deserve the best awards and medallions when they finish and we look forward to our partnership helping events provide long-lasting mementos for athletes to treasure years after they race their event."
To learn more about Running USA, visit www.runningusa.org and to learn more about Ashworth Awards, visit www.ashworthawards.com.
About Running USA
Running USA is a tax-exempt, not-for-profit organization devoted to improving the status and experience of distance running and racing in the United States through collective marketing and promotions, information and communications within the industry and to the national media, services to events and industry members, and the development of American world class stars. It seeks the advancement of the sport and the provision of value to each of its members' events and businesses. For more information, visit RunningUSA.org.
About Ashworth Awards
For over 50 years, Ashworth Awards has been a go-to resource for race directors, event coordinators, coaches, and industry leaders with their recognition products and awards. By providing the highest quality manufacturing and materials, unbeatable pricing, custom designs, and industry leading customer service they have created a seamless experience, assisting in recognizing their customer's event participants as well as acquiring the proper recognition and exposure that events deserve.