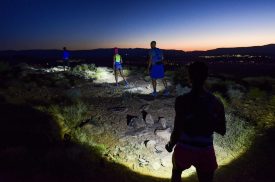 UltrAspire pushes forward on their Lumen Collection with 3D Lighting
President and CEO of UltrAspire, Bryce Thatcher, has been innovating the endurance sports industry since the late 70's. His passion for innovation began at an early age and with that came many industry firsts. More recently, UltrAspire launched their exclusive Lumen Waist Light Collection and debuted 3D Lighting. 3D Lighting is the culmination of functional concepts across different areas united into one product to solve the problems faced by adventurers during low light scenarios. Whether you are busy and have to train at night or early morning, are going on multiple day adventures, or simply just prefer running at dusk or dawn, the Lumen Collection is for you. It provides the most practical way to keep you safe, seen, and performing as if it was still daylight.
3D Lighting was conceptualized from techniques used in photography to create depth in a photo. In photography, when taking a portrait using the camera's internal flash, the light that illuminates the subject is coming from the camera's line of sight which makes everything appear flat. Photographers solve this problem by using external lighting sources to move the source of light away from the camera's aperture. This technique enhances the perception of depth in a photograph. In the same way, athletic lighting can be enhanced by moving the primary light source away from the athlete's line of sight and down onto their waist. This will naturally cast shadows across whatever subject it's laying on to create a 3D effect during low light conditions.
Why 3D Lighting? The things that trip you up when you are trail running at night typically aren't the large rocks; those are easily seen with a headlamp, but more so the little uneven dimples in the ground that aren't as visible. With UltrAspire 3D Lighting you will see mellow shadows cast across those uneven surfaces allowing you to have a better understanding of your terrain.
To better understand UltrAspire 3D Lighting, you can view ultraspire.com/3d-lighting to see comparison images and truly see the difference 3D Lighting can make on the road or trail.
About UltrAspire:
UltrAspire is a high-performance, innovative outdoor gear company. From competitive endurance sports to the casual adventurer, UltrAspire keeps to a very important code which is to create an inspired outdoor experience. Gear up with UltrAspire and experience the difference at www.ultraspire.com