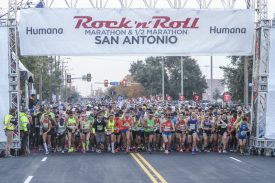 Race will debut new marathon and half marathon routes; Guster to headline the post race Toyota Rock 'n' Roll Concert Series; Annual race returns the weekend of December 3 – 4, 2016
SAN ANTONIO – December 1, 2016 – The 9th annual Humana Rock 'n' Roll San Antonio Marathon & ½ Marathon returns the weekend of December 3 – 4, 2016. More than 26,000 runners from 19 countries and all 50 states will toe the start line to take on Sunday's marathon, half marathon, relay and 5K or Saturday's 10K.
"As a company committed to health and well-being we are thrilled to be back in San Antonio as the title sponsor of the race," said Tom Silliman, market vice president for Humana in South Texas. "We believe great things are ahead of you when your health is ready for them, and the Humana Rock 'n' Roll San Antonio Marathon race weekend is a perfect opportunity to get out, get active and meet others who are doing the same. Hundreds of our associates will be on course either running or volunteering and cheering participants on from start to finish, and we're happy to support those who are putting their health first."
Rock 'n' Roll San Antonio will feature a revamped marathon and half marathon course for the 2016 event. The course changes were made to create a flatter, faster course and will take runners past new sights including, the San Fernando Cathedral and Mission Concepción. The marathon, half marathon and 5K will start on Presa and Commerce St. and will finish near Hemisfair Park and La Villita. The marathon and half marathon will travel together before splitting at mile 12. Runners will once again experience the historic and scenic sights of San Antonio including, the Alamo, San Fernando Cathedral, the University of Texas San Antonio downtown campus, San Antonio River Walk, The Pearl and more. In true Rock 'n' Roll fashion, live bands, enthusiastic cheerleaders and spectators will line the race route, concluding with a celebratory finish line festival and post-race Toyota Rock 'n' Roll Concert Series headlined by Guster.
"Race weekend is here and we can't wait to debut the new marathon and half marathon courses," said Cory Michel, Event Manager. "Both routes are flat, fast and truly highlight the very best of San Antonio. December is a great time of year in the Alamo city and we look forward to putting on another world-class event."
The event will once again feature two-days of running with the marathon, half marathon and 5K on Sunday and the 10K on Saturday. Participants can automatically qualify for the "Remix Challenge" by running the 10K on Saturday and any distance on Sunday and earn the coveted Remix Challenge medal in addition to each race's finisher medals. The 10K starts on Cherry St. at the Alamodome and finishes on Alamo Plaza.
SUBWAY KiDS ROCK returns on Saturday, December 3 at Brackenridge Park. The annual race allows children in first through seventh grade the opportunity to race one-mile while kindergartners run a half mile. Hundreds of children and their families come out for this race.
The 2015 Humana Rock 'n' Roll San Antonio Marathon & 1/2 Marathon generated a total economic impact of over $28,563,883 for the local economy, according to an economic impact study conducted by the San Diego State University Sports MBA program. The report showed that the event filled 15,330 hotel room nights, producing $1,422,507 in tax revenue and other tourism-related fees collected by local government. The race attracted more than 26,000 registrants from all 50 states and 27 countries throughout race weekend.
Race weekend kicks off with a free Health & Fitness Expo, where runners can find the latest in running technologies, fitness apparel, health and nutrition information and interactive displays. The Expo takes place at The Henry B. Gonzalez Convention Center on Friday, December 2 from 12:00 p.m. to 7:00 p.m. and Saturday, December 3 from 9:00 a.m. to 5:00 p.m. The Expo is free and open to the public.
For more information about Humana Rock 'n' Roll San Antonio, please visit RunRocknRoll.com/San-Antonio.
Download
2016 Course Map
Event Logo
Photo – Start Line (Credit: PhotoRun)