TriDot Selected as Training Software for Texas Tech and Toronto Triathlon Club
July 17, 2019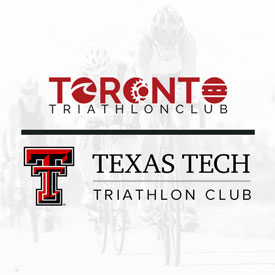 The Toronto Triathlon Club, Ontario's largest tri club composed of over 500 members, and the Tech Triathlon Club, a multi-sport organization at Texas Tech University, have selected TriDot as their official training provider.
The Toronto Triathlon Club is a not-for-profit organization bringing together and developing a community of adult multisport athletes. This Canadian club is a well-established organization that has a strong history of capturing Ironman Tri Club titles.  The addition of TriDot's training software will add to the experience and expertise of the club's coaching staff.
Toronto Tri Club President, Brenda Santos, says, "We are thrilled to be able to offer our members a partnership with a cutting-edge company that uses advanced technology to help our athletes optimize their training. TriDot is especially great for the athlete who wants to improve but is pressed for time-a characteristic of most of our membership, who are career and family folk."
Tech's triathlon club bonds university students through social and physical activities. The club is registered under USA Triathlon and competes in the South Midwest Conference and the USA Triathlon Collegiate Club National Championships. Partnering with TriDot will allow club officers to take the guesswork out of providing high-quality training for all team members.  TriDot's ability to deliver the best training in fewer training hours with less injury risk ensures that these student athletes are able to compete at a high-level while still balancing their coursework.
About TriDot
TriDot is a triathlon training optimization application that is fast becoming the obvious and automatic choice for triathlon training. It uses each athlete's biometrics and training data along with its own proprietary big data, advanced analytics, and artificial intelligence to design and optimize training.
Leveraging more than a decade and a half of data from tens of thousands of triathletes, TriDot is able to optimize training for individuals of all ages, backgrounds, and performance levels.  It produces substantially greater results in up to 30% less training time and with 2.9x less injury risk than human-designed training, which is based on theory, personal philosophies, and trial & error. TriDot delivers results that are predictable, repeatable, and otherwise unattainable.
TriDot is a performance science of Predictive Fitness, LLC and offers monthly subscriptions ranging from $9.99 to $249.  Learn more at http://www.tridot.com/.
About Predictive Fitness
Predictive Fitness is a Dallas, Texas based technology company that uses big data, advanced analytics, and artificial intelligence to prescribe and optimize health and fitness activities for individuals based on their individual biometrics and activity data. It has been analyzing health and fitness data from tens of thousands of users since 2005, constantly refining its analytical and prescriptive capabilities.  Its initial web-based service, TriDot, optimizes triathlon training for athletes of all performance levels delivering maximum performance gains in the least amount of time while minimizing injury risk.
Follow TriDot on social media on Facebook, Instagram, and Twitter.