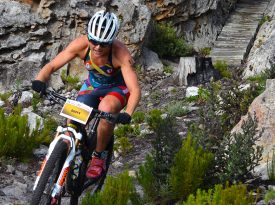 This weekend's FedHealth XTERRA South Africa Championship, the first of 41 events in 33 countries on the XWC qualifying series schedule, will host some 2,000 racers at the Grabouw Country Club in the Western Cape including Olympians Richard Murray and Flora Duffy.
February 21, 2017 (Honolulu, HI) – This weekend's FedHealth XTERRA South Africa Championship, the first of 41 events in 33 countries on the XWC qualifying series schedule, will host some 2,000 racers at the Grabouw Country Club in the Western Cape including Olympians Richard Murray and Flora Duffy.
"We are proud to host South Africa's premier off-road triathlon and the world's largest XTERRA," says Michael Meyer, Managing Director of Stillwater Sports.  "Grabouw is known for its beauty and the challenge that it pits athletes against.  We are excited to welcome both local and international athletes to the South African Championship and look forward to witnessing XTERRA racing of the highest level."
Elites in the men's race include home country heroes Bradley Weiss, the reigning XTERRA SA and Philippines Champion; Richard Murray, who finished 4th at last summer's Olympic triathlon event in Rio; Stuart Marais – the 2015 SA Champ; and Theo Blignaut.  Three of the top 10 men in last year's XTERRA European Tour are also on the start list including Kris Coddens, an XTERRA champion from Belgium; Brice Daubord from France, and Jan Pyott of Switzerland.
"The field is always deep, providing great competition and a very close and exciting race," said Weiss.  "Richard Murray has been one of SA's best triathletes for the past few years.  I believe he will bring the biggest challenge as well as Stuart Marais who won the title in 2015."
For Murray, XTERRA provides an opportunity to mix up his arduous triathlon training and racing routine.
"I am looking for some change this season," he said.  "XTERRA Grabouw is only a one-hour drive from my home and the ambiance is great.  I enjoy the mountain bike discipline the most, particularly the challenging rock garden.  Even the run is great, and has everything one could expect from a good course including trails, hills and a water crossing.  I will race in Abu Dhabi the weekend after Grabouw, so my goal is to race within myself.  I would love both a podium finish and to qualify for the World Championship in Maui."
The last time Murray raced in Maui, he finished 12th on the day (in 2013), and said … "I definitely underestimated the XTERRA World Championship that year.  This year, I want to win it."
Marais, who missed last year's race in Grabouw due to illness, said he is looking forward to some hard off-road racing.
"With XTERRA Grabouw attracting the cream of SA triathlon, there are a number of athletes who will be able to challenge for the overall win.  The number of international athletes entered is testimony to the quality of the event that is hosted by Stillwater Sports. It's great to have strong competition.  Hopefully I will be up to the challenge," said Marais.
In the women's race, reigning and three-time Olympian, XTERRA SA and World Champion Flora Duffy is looking to make it four-in-a-row at her home away from home.
"This is my favourite XTERRA on the circuit," says Duffy, who lives in South Africa half of the year. "The bike discipline offers everything you would want- climbing, twisty single track, rock gardens and beautiful views. The run is also really cool.  At the highest point of the route you can see the entire race village and the surrounding mountains.  It's quite breath-taking.  My favourite part of the run is the final kilometre along the beach.  This section literally looks like a gritty, white sandy beach. The contrast between the water, beach and mountains is really cool."
Other elite women hoping to throw a spanner in the works include Carina Wasle (Austria), Rachel Klamer (Netherlands), and Sandra Koblmueller (Austria).
"I've been racing it for many years and always love to come back to South Africa for the season opener," said Wasle, a 13-year veteran who won XTERRA SA in 2009 and 2011.  "The swim in the Coca-Cola coloured water of the Eikenhof Dam is really special, while the bike course with all the single trails is amazing and great fun.  It reminds me why I love this sport so much."
In addition to the main event XTERRA South Africa hosts a kids tri, sprint tri, and trail runs that accommodate thousands of racers over the three days in Grabouw.  This is the 14th year for XTERRA in South Africa, but even for seasoned veterans it will look like a brand new venue this time.
"Due to recent fires and harvesting, the landscape has changed dramatically," said the race director Hendrico Burger. "Large parts of the A – Z trails were either rebuilt or rerouted, however, all the iconic landmarks are still there. It's a combination of elements that makes this route tough including the elite athlete factor, the varied terrain, the sprint to the first single track, and the weather."
The fastest age groupers in the championship race earn qualifying spots into the ITU and XTERRA World Championship races while elites race for their share of the 154,000 rand prize purse.
For further information visit www.stillwatersports.com or follow along on Facebook at https://www.facebook.com/XTERRASouthAfrica.
ALL-TIME XTERRA SA ELITE CHAMPIONS
| | | |
| --- | --- | --- |
| Year | Men | Women |
| 2004 | Conrad Stoltz | Megan Hall |
| 2005 | Conrad Stoltz | Mari Rabie |
| 2006 | Conrad Stoltz | Michelle Lombardi |
| 2007 | Conrad Stoltz | Michelle Lombardi |
| 2008 | Dan Hugo | Eszter Erdelyi |
| 2009 | Lieuwe Boonstra/Felix Schumann | Carina Wasle |
| 2010 | Dan Hugo | Mari Rabie |
| 2011 | Dan Hugo | Carina Wasle |
| 2012 | Conrad Stoltz | Carla Van Huyssteen |
| 2013 | Richard Murray | Carla Van Huyssteen |
| 2014 | Dan Hugo | Flora Duffy |
| 2015 | Stuart Marais | Flora Duffy |
| 2016 | Bradley Weiss | Flora Duffy |
About TEAM Unlimited/XTERRA
TEAM Unlimited LLC, founded in 1988, is the Hawaii-based television, events, and marketing company that brought off-road triathlon and trail running to the world under the brand name XTERRA.  From a one-off race held on the most remote island chain in the world XTERRA evolved into an endurance sports lifestyle with worldwide appeal. Over the past 20 years XTERRA transcended its status as 'just a race' to become a bona-fide way of life for thousands of intrepid athletes as well as an emerging brand in the outdoor industry.  In 2017 XTERRA will offer more than 200 off-road triathlons and trail running events in 33+ countries worldwide and produce 10 adventure television shows for international distribution.  Learn more at xterraplanet.com and xterracontent.com.
###