Skip the Saddle Bag: New XLAB Store-All Duo Pod Opens Up Into Two Compartments
January 26, 2017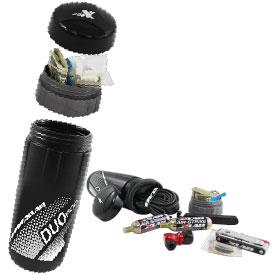 XLAB's popular collection of bicycle cage storage pods welcomes its newest addition – the dual chambered Duo Pod.
With a quick twist, the store-all Duo Pod opens up two waterproof compartments each ideally sized for keeping both large and small items neatly organized. Skip the saddle bag and jersey pocket baggies! Sort items by size for easy access to critical repair when it is needed most, or quickly locate your house key after a long ride in the rain.
The first twist pops open a large capacity 600mL (20.3 fl oz) chamber fit for repair essentials like a tube, two tire levers, XLAB AirStrike CO2 Cartridges, inflator, tool kit and patch kit. The included rattle-proof microfleece bag keeps items quiet. A bonus 83mL (2.8 fl oz) chamber hidden in the cap tucks away smaller items like cash, house keys or salt tablets.
The Duo Pod fits securely in XLAB's entire line of award-winning cages. Joining the ranks of XLAB's World-Title-clinching carbon cages is the new Raptor Cage. The sculpted shape easily customizes to match a rider's kit or bike using interchangeable colored 'Talons'.
XLAB extends its cage innovation into lower price points with the launch of the Vulcan Cage. This new stylish cage is aptly designed for frame or aerobar mounts, priced at the accessible US MSRP of $14.95.
Explore more on the Duo Pod at xlab-usa.com/duo-pod
Duo Pod US MSRP $14.95
Raptor Carbon Cage US MSRP $39.95
Vulcan Cage US MSRP $14.95
_______
ABOUT XLAB: A twenty-three year obsession with speed has launched XLAB into the lead as the premier manufacturer of aerodynamic hydration, nutrition and repair storage solutions. Our engineers passionately design, analyze and test systems for extremely light yet, extraordinarily reliable products that, propel athletic pursuit and have captured 30 World Championship titles. Unmatched in design, technology and style, we fuel our athletes with the innovations that stay ahead of the pack. Explore the leading innovations in aerodynamic accessories at xlab-usa.com