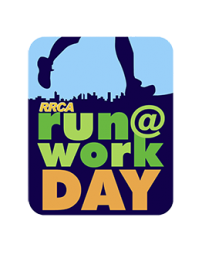 Arlington, Virginia – On September 19, 2014 the Road Runners Club of America (RRCA) will promote and encourage everyone to participate in the 9th Annual RUN@WORK Day and the 3rd Annual RUN@School Day, a nationwide fitness effort to get people moving.
Unfortunately, the trend towards decreased physical activity among youth and adults is continuing, increasing the risk of several chronic diseases.  The goal of the RRCA's RUN@WORK and RUN@School Day efforts are to promote the importance of regular physical activity and to encourage adults and children to get at least 30-minutes or more of exercise each day.
Company-based wellness programs, schools, running clubs, events, run specialty stores, teachers, coaches, parents, and individuals are encouraged to plan 30-minute fun runs and walks around the country with their employers or at local schools.  RUN@Work Day and RUN@School Day events can be held before work or school, during lunch, or immediately following work or school.
"Participation in RUN@WORK Day or RUN@School Day is an important step in raising awareness about the importance of daily physical activity for both children and adults," said Jean Knaack, RRCA Executive Director.  "If adults can lead by example, if companies can encourage healthy living, if schools can increase physical activity opportunities for youth, then together we can combat the national inactivity crisis gripping our nation and our children."
To learn more about planning a RUN@WORK or RUN@School Day event in your community, visit www.RRCA.org/programs/run-at-work-day for the detail planning kit.  If you are planning a RUN@WORK Day or RUN@School Day event, share your event details by emailing RRCA Programs Coordinator Andy Smith at programs@rrca.org. On September 19, remember to share pictures, videos, and observations from your RUN@WORK Day or RUN@School Day events on social media using the hashtag #RunAtWork.
About RRCA
Founded in 1958, the Road Runners Club of America is the oldest and largest national association of running clubs, running events and runners dedicated to promoting running as a competitive sport and as healthy exercise.  The mission of the RRCA is to promote the sport of running through the development and growth of running clubs and running events throughout the country.  The RRCA supports the common interests of runners of all abilities during all stages of life by providing education and leadership opportunities along with programs and services that benefit all runners. Learn more at www.RRCA.org and at www.RunPro.com