Positive doping control (EPO) at GFNY NYC
June 27, 2017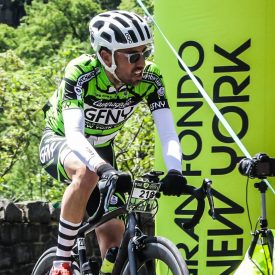 Rider caught in out-of-competition test
NEW YORK CITY, June 27, 2017 – Manuel Serrano Plowells (Mexico) tested positive for recombinant EPO during an out-of-competition control (OCC) conducted in concurrence with the Campagnolo GFNY World Championship in NYC on May 21, 2017.
Plowells admitted to having used the substance, which is banned under WADA rules. He is disqualified from the race and receives a lifetime ban from all GFNY events (Rule 9.3).
This is the fifth positive doping control in GFNY's short history.
"Five positive tests in six years of testing may seem a lot for an event where the majority are amateurs," says GFNY CEO Uli Fluhme. "It's simple though: you can't catch cheaters if you don't perform doping controls. And unfortunately most races still don't test sufficiently or at all."
"We don't allow course cutting at our races so why would we look the other way when it comes to doping? GFNY riders train hard for races. They deserve a fair competition. We owe them controls, even if the costs are well over $10,000 each year. Not testing the athletes is the worst decision that a race director can make because it forces everyone to take drugs to try to level the playing field."
Doping Control Rules at GFNY
GFNY established doping controls in 2012 and is the first event open to amateurs that also institutes out of competition tests. In 2012, David Anthony (NYC) and Gabriele Guarini (Italy) tested positive for EPO at GFNY after winning their respective age groups. In 2015, first overall finisher, Oscar Tovar (Colombia), tested positive for Testosterone, as did Yamile Lugo (Colombia), who came third in the women's race.
In addition to a lifetime ban for dopers at GFNY races, the race's rules also state that a rider who tests positive at GFNY has to reimburse the cost of the doping test. Furthermore, such rider has to reimburse GFNY for any damages to its reputation that are a consequence of the positive doping control. If the rider is part of a team participating at GFNY, the team can be held liable for this damage [GFNY rules].
A rider who is currently banned by WADA from competition may not participate in any GFNY event. After the ban, he/she is allowed to participate but has to start at the back of the field, will not be timed and will not be in the results. This allows for social reintegration despite a lifelong ban from competing. Several riders have taken part in GFNY over the years in this way.
Checking for Motors in Bikes
Since 2015, GFNY also randomly checks bikes for motors. Current technology allows to invisibly integrate inaudible motors into the frame that produce up to 250 Watts for 30 minutes which increases a top rider's output by more than 50%.
Main Focus Remains on Providing a Great Experience for All Riders
"Competitive sport at the top is important to us and has its place, which is why we take it seriously," adds GFNY President Lidia Fluhme. "That said, our main focus remains on providing a superior experience for all GFNY participants, especially those for whom it is a lifetime goal to do their best on a challenging course. A race for elite riders requires police support with just a 15 minute rolling closure. At GFNY, however, we ensure hours of closures and right of way for anyone who takes on the challenge."
About GFNY
GFNY is the global cycling marathon brand with events held in NYC, Argentina, Brazil, Chile, Colombia, Costa Rica, Germany, France, Indonesia, Israel, Italy, Malaysia, Mexico and Uruguay.
Riders get to BE A PRO FOR A DAY by competing against others, themselves and the clock in a personal endurance challenge.
At all GFNY events, riders have the chance to qualify for the elite racer corral at the GFNY World Championship in NYC by placing in the top 10% (20% at regional championships) of their age group.
The official GFNY website is: gfny.com.
Campagnolo GFNY World Championship NYC
The 8th annual Campagnolo GFNY World Championship New York will be held on May 20, 2018. The race features the world's most international peloton with riders from over 90 countries. Athletes take on a challenging 100-mile route from NYC to Bear Mountain to Fort Lee to compete against each other, the clock and themselves in a personal endurance challenge.
The official GFNY website is: gfny.com.
GFNY World calendar 2017/18 Season
2017
25 June GFNY EUROPE CHAMPIONSHIP MONT VENTOUX
6 August GFNY BRASIL
3 September GFNY DEUTSCHLAND
3 September  GFNY ASIA CHAMPIONSHIP INDONESIA
30 Sept – 1 Oct GFNY PROVENCE STAGE RACE
12 November GFNY COZUMEL-MEXICO
26 November GFNY CHILE
2018 
4 February GFNY BALI
25 February GFNY LATIN AMERICA CHAMPIONSHIP MONTERREY
11 March GFNY COLOMBIA
18 March GFNY URUGUAY
22 April GFNY COSTA RICA
27 April GFNY MIDDLE EAST-AFRICA CHAMPIONSHIP JERUSALEM
29 April GFNY MALAYSIA
20 May GFNY WORLD CHAMPIONSHIP NYC
Further Material for Media Use
GFNY NYC Race Results: here
Previous GFNY press releases: here
GFNY photo archive (credit SPORTOGRAF): here
Media Contact
Gran Fondo New York Inc.
Uli Fluhme
Phone: +1.212.933.4033
Email address:  uli@gfny.com