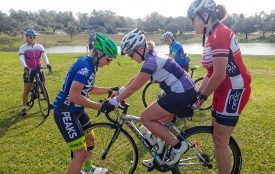 Clermont, FL / February 7-10, 2019
Clermont, FL: 2018-10-10 – Peaks Coaching Group (PCG)–industry leaders in data-driven coaching–announced today the dates for their women's cycling skills and power clinic.
Considering a cycling clinic catered to the female cyclist? Searching for a clinic to really challenge yourself, learn key skills, get in some great base miles and learn how to train with power from the guy who wrote the book on power, Hunter Allen? Well, this IS the cycling clinic for YOU!
"This is a great opportunity for people to get personalized hands-on instruction from some of the industry's best coaches," says Hunter Allen, PCG President and CEO.  "Our first camp in this area was huge hit in 2018, and ever since, we've had numerous success stories and wide-spread praise."
Women's Specific Road and Intro to Power Cycling Clinic
MTB and triathletes are welcome. Road bikes required.
Endurance and mid-intensity paced rides and skills instruction
30 to 60 miles / 3 to 4 hours of daily riding (pace groups dependent on ability of riders)
Daily education seminars, power file reviews and advanced learning opportunities
The goal of this cycling clinic is to focus on improving your ride skills and techniques, as well as, group riding techniques and strategies. You will learn the basics of training with power and surplus HR and perceived exertion training. Athletes from all over the world descend upon the beautiful rolling terrain of Clermont, FL throughout the year. Clermont is the perfect place for a cycling clinic with awesome hill training opportunities, quiet country roads, proximity to the National Training Center and home to Peaks Coaching Group Female Coach Julie McKenzie.
"I had been teaching various classes in the fitness industry since my teens and always loved riding a bike, but didn't realize women could race until I was almost 40 years old," says local Clermont Floridian PCG Coach Julie McKenzie.  "For the last 12 years I've grown as a rider, racer and Coach, and this clinic will certainly help spread all that I have learned to other female riders in the Clermont region!"
Who should attend:  Female recreational/competitive cyclists and above, female cyclists eager to learn more about training measurement tools, such as heart rate and power meters, female cyclists seeking performance improvement in a gran fondo, event, or category racing, female cyclists able to ride for extended periods of time at 16 mph and above, and coaches needing 15 USAC continuing education units
Attendees can register via www.peakscoachinggroup.com.
About Hunter Allen
Legendary cycling coach Hunter Allen is the co-author of Training and Racing with a Power Meter, which has sold over 100,000 copies and is available in over 20 languages. He co-authored Cutting-Edge Cycling and co-developed the industry-standard TrainingPeaks' WKO+ software.  In January of 2019, a new, 3rd edition of Training and Racing with a Power Meter will be released, offering even more pioneering insight to the principles of power training.
Widely known as one of the top experts in the world in coaching endurance athletes using power meters, Hunter Allen's goal has always been to teach athletes how to maximize their training and racing potential through professional analysis of their power data. This goes hand in hand with his philosophy that a power meter helps athletes discover their true strengths and weaknesses, quantitatively assess their training improvements, and refine and maximize the focus of their training.
About Peaks Coaching Group
In 1996 after retiring from professional cycling, Hunter Allen founded Peaks Coaching Group, and has partnered with some of the bike industries most pioneering companies, such as PowerTap. In 2017 PCG partnered with CVR World Cup to create training plans for riders specifically to use in Zwift and held the first real-world/Zwift fantasy camp and race at the Velodrome in southern California. Most recently, PCG has partnered with LEOMO for development and testing of the TYPE-R real-time motion analysis device.
It's now 2018 and Peaks Coaching Group has affiliate locations in Brazil, Japan, Germany and the United Kingdom.
The cycling world continues to evolve and Peaks Coaching Group, with our great partners and sponsors, is at the forefront of data-driven training!
For more information, please visit www.peakscoachinggroup.com or contact info@peakscoachinggroup.com or follow us on social media @peakscoaching.
Media Contacts:
Sherman Cravens – Sherman@peakscoachinggroup.com – 540-587-9025
Lee Sandstead – lee@peakscoachinggroup.com – 434-228-3512