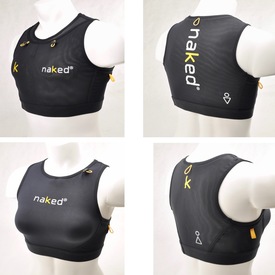 Vashon, WA. July 23, 2018 – Naked Sports Innovations is pleased to announce the addition of two new category-busting products to our line of revolutionary light-weight and high capacity hydration and accessory carrying products.
Naked Running Spra™
The Naked Running Spra™ is just 3.0 oz and made with Schoeller Coldblack® cooling face fabric and Naked power mesh sides and back. This breathable and cooling pack features 2+ liters of carrying capacity, main rear compartment for stashing poles, jacket, food, hydration (using any model of flask), telephone, and headlamp. Secure side pockets hold your small go-to items and one includes a micro clip for keys and other valuables. For those using flasks with drink tubes, we've added a shock cord lock in the front. Each pocket has shock cord and ribbon pull tabs for quick access on the run. Spra users also benefit from special safety features, including reflective elements and shock cord mounted high volume safety whistle. The entire pack has soft, non-chafing stitching and trim and, like the Band with which is shares its DNA, 12 sizes for a precise fit.
MSRP: US 74.99
Naked Running Vest ™
Like its running band stable-mate, the Naked Running Vest™ is made from the incredibly breathable, quick-drying, non-chafing and bounce-resistant Naked Power Mesh. It weighs in at only 3.5 oz. and, with pockets on the front, sides and back, it has a whopping 3+ liters of capacity – perhaps the highest weight/capacity ratio for packs in the world. Its unique design ensures weight distribution of the things you need on the run, including poles, flasks (any model will work), reservoirs (the front pull cords double as drink tube locks), food, clothing, and accessories. Safety features include a shock-cord mounted whistle and reflective elements. An internal micro clip is also provided for keys and other valuables. The Naked Running Vest™ is made to wear next to the skin or over light clothing and comes in Men's and Women's models, in 12 sizes for a precise fit.
MRSP: US 74.99 (Women's)
MRSP: US 79.99 (Men's)
Available Mid September 2018
For more information:
Lindsay Petersen Dakota
Lindsay@nakedrunningband.com or 866-686-8665
www.nakedsportsinnovations.com