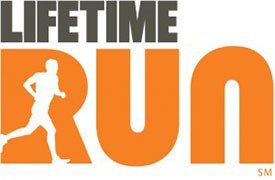 Runners of all ages and abilities logged miles with Life Time Run and socially in celebration of nationwide event
CHANHASSEN, Minn. (June 4, 2013) — Today, Life Time – The Healthy Way of Life CompanySM (NYSE: LTM) invited runners of all levels, ages and abilities to hit the pavement — or a treadmill — in celebration of National Running Day. As of 9:00 p.m. CST, Life Time announced that runners with Life Time Run logged more than 15,000 miles nationwide, the equivalent of running from Los Angeles, Calif. to Sydney, Australia and back. People had the opportunity to participate  in National Running Day by either running in an organized group setting such as  with a local Life Time Run program, or on their own and then logging their  miles socially on Life Time Run's  Facebook page or via Twitter using the hashtags #lifetimerun and  #nationalrunningday.
"More than 50 million Americans lace up their sneakers to run each year.  It truly is a universal sport and an easy way for people of all shapes and sizes to lead a healthy, active way of life," says Rebekah Mayer, National Training Manager for Life Time Run.  "At Life Time Run, our goal is to fulfill passions and inspire new interests by providing best-in-class people, programs and places to runners across the county. We're thrilled to see how people took on the challenge to get 15,000 miles in on National Running Day and show their own commitments to being active."
Life Time Run, the fastest growing running organization in the country, has more than 18,000 runners actively participating in its monthly programs and offers social run programs, group training as well as customized training and coaching. Life Time Run is open to both members and non-members and is free for anyone to join at more than 60 Life Time destinations nationwide.
Life Time Run offers Tuesday night  social runs with distances for every runner as well as a series of weekly  workouts called Dawn Patrol, each one challenging participants' strength and  stamina. Life Time Run also offers training products including group training, customized plans and 1:1 coaching. For those runners training for a specific  event, Life Time Run offers Finish Line Training for events across the country  including Athleta Esprit de She, Turkey Day 5K and many half marathon and  marathon races.
For additional information on Life Time Run social runs and programs, visit http://lifetimerun.com.
About Life Time Fitness, Inc.
As The Healthy Way of Life Company, Life Time Fitness (NYSE:LTM) helps organizations, communities and individuals achieve their total health objectives, athletic aspirations and fitness goals by engaging in their areas of interest – or discovering new passions – both inside and outside of Life Time's distinctive and large sports, professional fitness, family recreation and spa destinations, most of which operate 24 hours a day, seven days a week. The Company's Healthy Way of Life approach enables customers to achieve this by providing the best programs, people and places of uncompromising quality and value. As of June 4, 2014, the Company operated 111 centers under the LIFE TIME  FITNESS® and LIFE TIME ATHLETIC® brands in the United States and Canada.  Additional information about Life Time centers, programs and services is available at lifetimefitness.com.
# # #