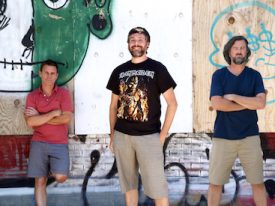 Powerhouse industry veterans form new partnership
(Salt Lake City, UT — September 12, 2018) – Bicycle industry pioneers Dave Weagle, Jason Schiers and Hap Seliga announced today the launch of their new company, Trust Performance. Their cooperation began in 2013 and the company is positioned to be a major new force in the cycling industry. More detailed information on Trust Performance's product line will be available soon.
"Our mission is to help riders get the most out of the moments that make life awesome," said Dave Weagle, Founder and Technical Director. "Trust Performance has been an ambitious undertaking and we've assembled a great team to support an amazing product that we know is going to make riders' lives better." Weagle is best known for his rear suspension designs, which appear on many of the world's most respected mountain bike brands. These designs have won multiple World Cup Downhill overall and World Championships as well as been perennial "best of" candidates. Weagle also founded e-thirteen and Evil Bikes and has been instrumental to the success of many other brands.
"Mountain biking has always been a hotbed of technological innovation," added Trust Performance Co-Founder and President, Jason Schiers. Schiers founded Enve Composites in 2005 and has been active in the industry for more than 20 years. "We are continuing that pioneering spirit with Trust Performance and delivering on the promise of authentic and addictive products."
Hap Seliga, Co-Founder and CEO of Trust Performance remarked, "We were brought together through searching for a solution to a shared problem. We each push our limits both when we ride and when we work and, because of that, we've spent decades chasing better experiences for our customers and ourselves. We can't wait to share our solution with the world." Seliga co-founded online retailer, Competitive Cyclist, and will be focused on strategy, operations, customer experience, sales and distribution.    
Trust Performance is based in Salt Lake City, Utah and has more than fifteen staff. Additional information about their product line will be announced in the coming weeks at www.trustperformance.com. 
Media Contact
Garin Fons
TRUE Communications
garin@truecommunications.com
952.239.1422