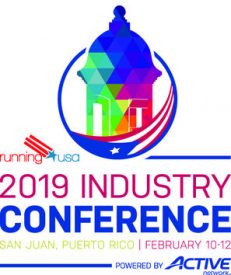 Three small races from around the U.S. will pitch their event to representatives of Brooks Running Company and Nuun for the chance at VIK sponsorship packages
DETROIT (Oct. 22, 2018) – The first ever Run Happy Pitch Fest Presented by Brooks, to be held at the 2019 Running USA Industry Conference powered by the ACTIVE Network in Puerto Rico, is shaping up to be a great friendly competition between three worthwhile events.
"We're so excited to see what these three finalists will bring to the main stage when they introduce us to their events at Pitch Fest," said Christine Bowen, vice president of programming, partnerships and operations at Running USA. "This is a one of a kind opportunity to earn value-in-kind sponsorship and we had a wide variety of events apply for the chance to pitch in Puerto Rico."
"The Run Happy Pitch Fest finalists stand out for having innovative ideas that deliver distinct experiences to runners," said Stevie Jones, Brooks Event Marketing Manager. "We're excited to award running gear to these events and to watch them come to life and engage runners across the country."
The three finalists selected to pitch their events to representatives of Brooks Running and Nuun Hydration are:
The Red Dress Run for Women, a women's only 5K in West Hartford, Connecticut produced by the Hartford Marathon Foundation. This event, 20 years in the running, celebrates health and fitness, self-confidence, female friendship and intergenerational connections between women.
The inaugural Bay Bridge Half Marathon in Oakland, Calif., being produced by Mascot Sports for the first time in May 2019. It will be the first ever running event that runs over the famous Bay Bridge between Oakland and San Francisco.
The Publix Savannah Women's Half and 5K, which will celebrate its fifth year in 2019, is produced by the Savannah Sports Council. The race has a strong record as a charity fundraiser and is a major economic generator for the city of Savannah.
All of the finalists will be awarded a VIK sponsorship package, however, the final determination of their award will depend on their presentations. The Run Happy Pitch Fest Presented by Brooks will take place at the Industry Conference on Monday, Feb. 11 at 3:30pm. Will you be there to see the presentations? Register for conference today.
About the Running USA Industry Conference
Since its origins as a small gathering of Running USA's founders in Southern California in 2004, the Running USA annual conference has grown to becoming the best-attended, most esteemed gathering of running industry professionals from around the USA and the world. Now moving locations each year, the conference has been held in Los Angeles, San Diego, Savannah, Houston, San Antonio, Orlando, New Orleans and now San Juan, Puerto Rico.  Register here.
About Running USA
Running USA is a tax-exempt, not-for-profit organization devoted to improving the status and experience of distance running and racing in the United States through collective marketing and promotions, information and communications within the industry and to the national media, services to events and industry members, and the development of American world class stars. It seeks the advancement of the sport and the provision of value to each of its members' events and businesses. For more information, visit RunningUSA.org
About Brooks
Brooks Running Company sells its performance footwear, apparel, sports bras and accessories in more than 50 countries worldwide. Brooks' purpose is to inspire everyone to run and be active by creating innovative gear designed to keep runners running longer, farther and faster. This purpose is supported by Brooks' Run Happy philosophy, a quest to celebrate and champion the sport of running and all runners everywhere. Founded 1914, Brooks is a subsidiary of Berkshire Hathaway Inc. and is headquartered in Seattle. Visit www.brooksrunning.com for more information or follow us on Twitter (@brooksrunning) and Facebook (www.facebook.com/brooksrunning).
About Nuun
Nuun, based in Seattle, WA, is on a mission to inspire a healthier, happier, more active lifestyle so that everyone can achieve life's next personal best. As the pioneer of electrolyte enhanced drink tablets, Nuun is passionate about and committed to replenishing active people and our planet by using clean ingredients and practices in the great tasting and industry leading sports drink. Founded in 2004, Nuun was the first to separate electrolyte replacement from carbohydrates. To learn more, visit www.nuun.com or follow them on social media.