Elements to Building an Award-Winning Race Event
August 16, 2018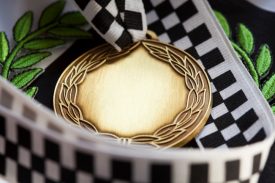 With the growing number of endurance events in the world, producing award-winning race events is more than just a vanity metric; it's evidence of smart marketing and a way to set yourself apart from the competition.  Beyond the joy of putting on a good race, recognition on the world scale is part of what makes award-winning race events stand out to participants as a mark of quality, for both returning and prospecting.
The Association of International Marathons and Distance Races (AIMS) has been recognizing award-winning race events since 2013. The member-based organization of over 450 of the world's leading races was formed in 1986 with the objective of promoting distance running throughout the world. The organization works with the International Association of Athletics Federations to consult on all matters concerning road races, including measuring courses and ensuring that certified road races meet specific conditions. Member races can exchange information, knowledge and expertise to improve their event offerings, as well.
Learning from the Pros
The best way to produce an award-winning race event is to learn from previous winners. AIMS recognizes race events in two categories every year: the Green Award is given to a race event with the best environmental practice, while the Social Award is presented to a race event for the quality of their social engagement. What does it take to produce an award-winning race event, and how can you incorporate those characteristics into your race planning? We'll take a look at some past winners for takeaways that will help you make your next road race an award winner.
Becoming an AIMS Green Award-Winning Race Event Through Small Changes
Candidates for the AIMS Green award are judged on the impact their race has on promoting environmentally friendly practices. This includes:
How volunteers are involved in the project
How the race itself can be used to educate younger participants about the ways sports can contribute to environmental protection.
In 2016, the GöteborgsVarvet half marathon in Gothensburg, Sweden was recognized with the AIMS Green Award for their efforts to ensure that sustainability was integrated into every aspect of their event. The half marathon is the largest in the world, with over 64,000 participants arriving at the event over three days. The race directors recognized the impact that CO2 emissions from so many individual participants driving to and from the race could have, including registration and bib collection. In order to address this, the race directors provided free transportation to and from the event for all three days. In the end, 75% of participants took advantage of the free transportation, which reduced CO2 emissions substantially.
Other environmentally friendly methods the GöteborgsVarvet have introduced that contributed to their Green Award included:
Of course, the entire nation of Sweden is already known for having an environmentally friendly stance to begin with, from national policy to social understanding. But Green Award-winning race events have also been named in the United States.
In 2015, the Chevron Houston Marathon in Texas, a state known for its cattle ranching and big pickup trucks, was recognized with the AIMS Green Award. Similarly to the GöteborgsVarvet, the Chevron Houston Marathon race organizers recognized the importance of their event's contribution to CO2 emissions and other waste. They successfully prevented sending waste to landfills in 2015 by 76% by implementing the following solutions:
Taking all runner and volunteer registration online
Creating reusable signage by omitting dates.
In addition, the folks from the Chevron Houston Marathon collected data during the 2015 event to calculate the carbon footprint of all elements of the race to create a plan to reduce their environmental impact for future events. Some of their findings led to recommendations that included:
Ending individual packaging for race medals and t-shirts
Selecting host hotels that are within walking distance of the event
Hiring caterers that use recyclable materials
Mapping the race route on urban areas to reduce the impact of runners and spectators on natural wildlife and green spaces
Introducing a double sort process to sort waste efficiently
Simple changes such as these can have a big impact, and may lead to your marathon or endurance event being named a Green Award-winning race event.
Addressing Social Issues to Become an AIMS Social Award-Winning Race Event
The AIMS Social Award is awarded to a race event based on their efforts to promote the United Nations Millennium Development Goals, which include:
Eradicating extreme poverty and hunger
Combating disease
Decreasing child mortality
Promoting gender equality and empowerment of women
Ensuring environmental stability
In 2016, the Munich Marathon won the AIMS Social Award for their "Laufend integrieren" ("constantly integrate" project), wherein the organizers used the marathon and the sport of running to help refugees integrate into German culture. In 2015, the race organizers began working with the social authority of the City of Munich to develop running groups for runners and refugees that met once a week from August to October to train for the race. Thirty-two refugees participated in their inaugural year. Additionally, the program integrated over 100 refugees into their volunteer program, where they helped German citizens prepare and hand out race packages and oversee the race route on the day of the event.
The Munich Marathon also raised funds for the social authority of Munich by selling bracelets branded with "Laufend integrieren" at the event and by drumming up donations. Overall, they donated €30,000, which the Munich municipality plans to distribute to continue to help refugees in their community.
Introducing fundraising initiatives for specific social causes is a normal part of race events for many race organizers, and it can have an enormous positive impact on the community. In 2015, the AIMS Social Award winning race event was the Maraton Internacional Lala  in Mexico City, Mexico. The race organizers were thrilled to be the first Mexican road race to become an award-winning race event, as it brought their marathon to the international stage. In order to win the award, the race authorities for the marathon instituted a running for a cause campaign that raised enough money to provide 50 children from an underserved zone in the city with necessary dental surgeries.
Following the lead of these AIMS Award-winning race events, you can identify needs in your community and use fundraising, consciousness raising, or volunteerism to help solve social problems.
Integrating Existing Initiatives to Become an Award-Winning Race
As a race director, you may already have started initiatives for social change or environmental consciousness raising. Once you've covered the basics, adding support to simple existing initiatives can help boost your race event into award-winning territory. As past winners have done, consider the following ideas to help make your organization an award-winning race event:
Working with your local government to address social issues
Incorporating fundraising activities by selling merchandise and approaching sponsors
Increasing accessibility to your event through free transportation
Partnering with environmentally conscious providers to ensure sustainability in giveaways and food items
For more tips from the Endurance industry's best and brightest on growing your event and making it stand out, check out our whitepaper with advice from race directing legend, Dave McGillivray.
References: