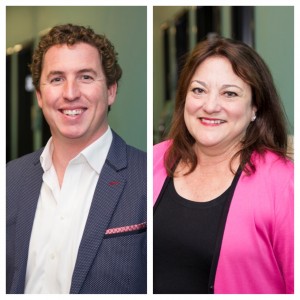 Josh Furlow named President; Wendy Godoy joins company as CAO and CFO
SAN DIEGO – March 24, 2015 – Competitor Group, Inc. (CGI) today announced changes to its senior leadership team designed to continue the company's global growth strategy, with a renewed focus on innovative consumer experiences and dedication to the organization's core values.
"Competitor Group is proud to announce a new executive team to lead our company forward," said Paul Walsh, Executive Chairman of CGI. "Our board of directors is confident that the expertise, experience and leadership skills of the new team will help capitalize on the significant growth opportunities we see in the active lifestyle industry."
Specific changes to CGI leadership include:
Josh Furlow has been named President, overseeing all of CGI's global business. Furlow was previously Executive Vice President of Events.
Joining the executive team as Chief Administrative Officer and Chief Financial Officer will be Wendy Godoy. She previously served as Senior Vice President and CFO of Terramar Retail Centers.
"It is a great privilege to have the opportunity to serve as president of CGI and I look forward to collaborating with our new senior executive team to help drive the growth of our business," said Furlow. "Our focus will be to harness the synergy between our world-class events and media brands to create additional value for our partners, cities and athletes we serve around the world."
Furlow joined CGI in 2011 as Vice President of Operations, where he was responsible for the planning, operations and logistics of the company's flagship Rock 'n' Roll Marathon Series. Prior to joining CGI, Furlow served as the Vice President of Planning & Operations for AEG Sports where he managed the global operations, vendor relations, budgets and the TV Broadcast for The Amgen Tour of California, the largest cycling race in the United States.
"I'm honored to join CGI, an extraordinary organization of talented people and respected brands," said Godoy. "I look forward to working with Paul, Josh and the entire team to further the company's development."
Godoy brings more than 30 years of financial management experience to the executive team at CGI. In her role as CAO and CFO, she will oversee finance, accounting, human resources and legal affairs. She holds a Master of Business Administration degree in Finance and a Bachelor of Science in Accounting from San Diego State University.
Headquartered in San Diego, Calif., CGI is the active lifestyle industry's leading media and event entertainment company. CGI owns and operates 36 events around the world, including the TriRock Triathlon Series and its flagship Rock 'n' Roll Marathon Series, welcoming more than 600,000 professional and amateur participants in 2015. Anchoring the company with rich content are four publishing brands dedicated to running, cycling and triathlon including Women's Running, Triathlete, Velo, and Competitor with a combined monthly circulation of over 700,000. The race services division of CGI, Race IT is the second largest provider of online registration solutions to endurance event organizers around the world. Further information about CGI can be found at CompetitorMediaKit.com.