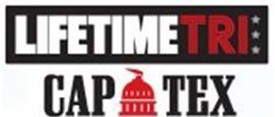 World's best triathletes to compete for $30,000 cash purse at Life Time Tri CapTex
Austin, Texas (May 8, 2014) – Life Time – The Healthy Way of Life Company (NYSE:LTM) will host some of the world's finest athletes on Memorial Day during the Life Time Tri CapTex, the third race in the Life Time Tri Pro Series.
The winner of the Life Time Tri Cap Tex will take home part of a $30,000 cash purse and earn points toward their overall standings as they work toward the series championship event, Life Time Tri Oceanside in October.
Among those competing for the title and a Texas victory are 29-year-old Cameron Dye (Boulder, CO) and 42-year-old Greg Bennett (Boulder, CO). Dye leads the series following a win at Life Time Tri South Beach in Miami on April 6. Bennett, the overall male winner of the 2006, 2007 and 2008 Life Time Tri series, is aiming to close a 10 point gap with a win in the Capital City.
In the women's professional division, 33-year-old Sarah Haskins (St. Louis, MO) will defend her top spot in the tri series against 32-year-old Helle Frederiksen (Denmark) and 30-year-old Alicia Kaye (Clermont, FL). Kaye took home a first place win at the 2013 Life Time Tri CapTex, continuing on to win the entire and Life Time Tri Series.
The Life Time Tri CapTex will be held on Memorial Day, Monday, May 26 in Austin, Texas. The event includes sprint and international distances, SuperSprint distance and sprint and international distance relays. The event is expected to sell out. Registration is available online at www.captextri.com
Life Time Tri CapTex Professional Athlete Roster
Pro Men
Randy Arriola
Edward Aviles
Greg Bennett
Barrett Brandon
James Burns
Ben Collins
Brooks Cowan
Nathan Dressel
Cameron Dye
Tom Eickelberg
Kevin Everett
Stuart Hayes
Kyle Hughes
Matthew Ison
Hunter Kemper
Kyle Leto
Jim Lubinski
David Lynch
Michael Poole
Joel-Tyler Rodgers
Kevin Ryan
Mark Saroni
Francisco Serrano
Nicholas Sterghos
Chris Wiatr
Alex Willis
Derek Yorek
Pro Women
Lauren Barnett
Grace Benes
Lauren Brandon
Helle Frederiksen
Abby Geurink
Sarah Haskins
Bailey Hinz
Alicia Kaye
Samantha Kennedy
Sara McLarty
Jillian Petersen
Kathy Rakel
Lesley Smith
Sierra Snyder
Natasha Van Der Merwe
Radka Vodickova
About Life Time Fitness, Inc.
As The Healthy Way of Life Company, Life Time Fitness (NYSE:LTM) helps organizations, communities and individuals achieve their total health objectives, athletic aspirations and fitness goals by engaging in their areas of interest – or discovering new passions – both inside and outside of Life Time's distinctive and large sports, professional fitness, family recreation and spa destinations, most of which operate 24 hours a day, seven days a week. The Company's Healthy Way of Life approach enables customers to achieve this by providing the best programs, people and places of uncompromising quality and value. As of May 8, 2014, the Company operated 109 centers under the LIFE TIME FITNESS® and LIFE TIME ATHLETICSM brands in the United States and Canada. Additional information about Life Time centers, programs and services is available at lifetimefitness.com.