Altra Showcases Fall 2019 Line at The Running Event Featuring New Outdoor Adventure, Road and Trail Shoes
November 28, 2018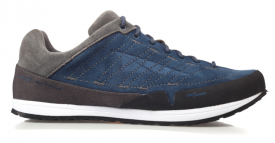 (Logan, UT — November 27, 2018) Altra's Fall 2019 collection, featuring a new outdoor adventure line with road and trail updates, will be showcased at The Running Event in Austin, Texas on November 28-30 at booth #1831.
OUTDOOR ADVENTURE
The Altra Wahweap, named for a geological formation in the Grand Staircase-Escalante National Monument, is designed to take you from gym to crag to trailhead to dinner. This shoe features a soft 75% hemp upper that's both functional and sustainable. The sticky rubber outsole is siped for technical, multi-surface traction and a climbing-style wrapped toe for added functionality and durability. The Wahweap has a low stack height of 14.5mm and weighs just 8.9 ounces for men and 7.5 ounces for women.
MSRP for the Wahweap is $100, available in July 2019.
The Altra Grafton, named for Grafton Mesa in the canyoneering hotspot of Southern Utah, is an Altra trail hiker with the soul of an approach/canyoneering shoe. Made to be technical enough for hiking and scrambling yet sleek enough for casual wear, this is a premium, do-it-all outdoor shoe. The outsole is equipped with Vibram® MegaGrip™ for maximum traction and a climbing style rubber toe cap for protection while the sleek upper features a mix of rugged suede leather and canvas. The Grafton has a 23mm stack height and weights of 11 ounces for men and 9.2 ounces for women.
MSRP for the Grafton is $140, available in July 2019.
Named for Utah's rugged Tushar Mountains, the Altra Tushar is made for serious mountain hikers. The Tushar is the first true FootShape™ hiking boot for backpackers, wilderness adventurers and thru-hikers. The upper is a combination of an abrasion-resistance ballistic nylon and an inner waterproof eVent® layer to create a tough, all-weather protection outdoor adventure shoe. A resilient, compression-resistant, long-lasting PU midsole with InnerFlex™ technology allows for maximum flexibility, while a DuraTread™ rubber outsole provides great traction and durability. The Tushar's stack is 27mm and weighs 19.8 ounces for men and 16.6 ounces for women.
MSRP for the Tushar is $200, available in August 2019.
ROAD
Altra's best debuting shoe is back with subtle tweaks on the Altra Escalante 2.  A new Dri-Lex® Dri-Freeze heel liner was added for heat control and a better on-foot feel. The upper features a new structured knit with perforations for better breathability, a more secure fit and enhanced performance while maintaining classic Escalante comfort. Flexibility was enhanced by increasing the decoupling in the Altra EGO™ midsole and outsole. The Escalante's stack stays the same at 24mm and 8.8 ounces for men and 7.4 ounces for women.
MSRP for the Escalante 2 is $130, available August 2019.
Altra split its best-selling Torin into two unique shoes: the Torin 4 is a racecourse crusher built for speed, while the Torin 4 Plush is a premium, long-mileage racer built for comfort.
The fan-favorite Torin was revamped to tackle the racecourse with the Altra Torin 4. Stack height and weight were decreased on this version by removing the strobel layer and adding a new Quantic™ midsole for the perfect blend of plush, responsive cushioning in a lightweight ride. Strategic decoupling on the outsole allows for better flexibility and a smoother ride, while a performance mesh upper keeps the shoe light and speedy. The Torin 4 features a 26 mm stack height—2 mm lower than the Torin 4 Plush—and weighs 9.1 ounces for men and 7.5 ounces for women. The lower stack height and weight give the shoe a more nimble feel.
MSRP for the Torin 4 is $120, available May 2019.
The new Altra Torin 4 Plush has a luxurious fit and feel. The Quantic™ midsole provides a plush, yet responsive ride paired with a new premium insole for the ultimate underfoot experience. A flexible, soft engineered knit upper—thanks to the combination of an InnerFlex™ midsole and decoupled outsole—allows your foot to move free and uninhibited for maximum comfort on higher mileage. The Torin 4 Plush has a 28mm stack height and weighs 10.1 ounces for men and 8.5 ounces for women.
MSRP for the Torin 4 Plush is $140, available May 2019.
Altra's Duo 1.5 is an incredibly light, max-cushioned road shoe made for high performance on race day. The update features an engineered knit upper equipped with a new heel collar and a strategic knit pattern for a more secure fit. The MAX-LT™ cushioning provides a speedy feel with a more durable outsole rubber for the perfect minimal weight, maximum cushion race-ready shoe. Even with a high 31mm stack, the shoe weighs just a 8.1 ounces for men and 6.8 ounces for women.
MSRP for the Duo 1.5 is $130, available July 2019.
TRAIL
The Altra Vanish-XC is a featherweight, fast, comfortable cross country racer and the shoe Altra Elite Zach Bitter wore to set the 100-mile trail record in 12:08:36. The open mesh upper doesn't have traditional lace eyelets, which allows customized lacing patterns customized to a runner's individual needs or foot shape. Strategically placed rubber "spikes" on the outsole give for extra traction and keep the shoe legal for non-metal spike races. The Vanish-XC is a unisex shoe with an incredibly light 5.5 ounce sample weight and a low 15mm stack height.
MSRP for the Vanish-XC is $80, available May 2019
The Altra King MT 2 features a new Vibram® MegaGrip™ LiteBase™ outsole for 40% reduction in thickness and 25% reduction in weight when compared to the previous MegaGrip™ outsole. The King MT 2 still has grippy 6mm lugs, but Vibram's MegaGrip™ LiteBase™ adds better traction, durability, drainage and performance. The upper is made from a custom designed mesh with dynamically cut eye stays for flexibility and comfort. The 19mm stack remains the same but the weights drop to 8.7 ounces for men and 7.3 ounces for women.
MSRP for the King MT 2 is $140, available May 2019.
The Altra Olympus 3.5 keeps the favorite attributes of the previous version with key updates. The redesigned upper has a new fabric pattern to increase durability and stop blowouts, while the InnerFlex™ midsole allows for better flexibility and responsiveness. The widened platform and grooved outsole provides stability on uneven surfaces, while the Vibram® MegaGrip™ outsole provides traction on a variety of terrains. The Olympus 3.5 has a 33mm stack height and weighs 10.7 ounces for men and 8.9 ounces for women.
MSRP for the Olympus 3.5 is $150, available July 2019.
About Altra
While working at a running store, Altra founder Golden Harper was frustrated that modern running shoe technology caused poor running form and had not decreased running injuries. His passion to create a shoe that followed the science produced Altra's FootShape™ toe box, Zero Drop™ platform and Fit4Her™ female-specific shoes. Since its founding in 2011, Harper and co-founder Brian Beckstead have grown Altra from one to 30 shoe styles, winning multiple Editor's Choice awards and distribution in more than 60 countries. Join the conversation @AltraRunning and #ZeroLimits on Twitter, Instagram and Facebook.
Media Contact: Colleen Logan, VP Marketing, clogan@iconfitness.com
Photo: The Altra Grafton