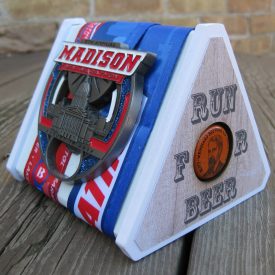 Is there a better combination than beer and running? Some would argue there isn't. And to help prove their point is the increasing number of Americans who complete a beer themed run each year. And why not? The union of these two iconic hobbies just works.
"There is nothing quite like the feeling of crossing the finish line after a hard race and heading straight for the beer tent" said Medal Mode Director of Communications Courteney Lowe. "Athletes work hard in training because they are passionate about it. They're also passionate about beer, so why not display both joys of life on a classic Run for Beer Medal Mode".
The Medal Mode Run For Beer Edition lets you customize your display with your favorite beer cap and is available in 4 sizes to showcase anywhere from one to 20 medals. Run for Beer Medal Mode displays will be on sale at medalmode.com starting from $14.99. To learn more or to order your very own motivational display visit: http://www.medalmode.com/products/run-for-beer
To learn more about Medal Mode visit medalmode.com or follow Medal Mode on Instagram, Twitter or Facebook.
About Medal Mode
Medal Mode is a family run business based out of Madison, Wisconsin. Founded by avid runners with a growing collection of finisher medals that needed a place to shine, the Medal Mode display was created as an alternative to the usual hangers and hooks that seemed to be the only option out there. Medal Mode gives you a great way to give your medals the pedestal they deserve. To learn more about Medal Mode visit www.medalmode.com