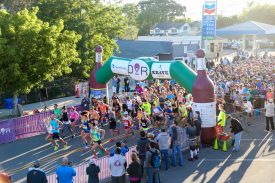 Sergio Reyes once again asserted his dominance at the 2017 Santa Barbara Wine Country Half Marathon as he won for the sixth time in six attempts on a challenging course that showcases the beautiful Santa Ynez Valley.  Reyes, 35, from Palmdale, CA, had to battle a constant headwind but still was able to finish with a time of 1:07:55, easily distancing 2nd place finisher Sean Gildea, 25, from Dana Point, CA and Colorado School of Mines, by over four minutes (1:12:11).
It was Liza Reichert, 29, a former UCSB cross country runner now residing in Los Altos, CA, captured the women's title with a time of 1:21:26, well ahead of 2nd place finisher Dani Moreno of Santa Barbara who crossed the line in 1:28:23.  Reichert, a 2016 Olympic Trials Qualifier, is also a Clinical Researcher at Children's Hospital at Stanford University.  "It was great to finally run this race, I have been wanting to do it for some time," beamed Reichert.  "I had a great experience and appreciated the flawless coordination." Reichert and Reyes both took home $500 in prize money from Rabobank, a magnum of wine, and a wine coaster trophy from Fortessa.
For most runners the Santa Barbara Wine Country Half Marathon isn't just a race, it's a weekend escape with so many restaurants, shops, wineries, and endless source of recreational opportunities in the area. Many of the participants who roamed the festival were moms with their children on this Mother's Day weekend.  For others, it was more about the run.  The 13.1 mile course runs from Santa Ynez through Los Olivos, then down Ballard Canyon before finishing in the heart of downtown Solvang. Runners are treated to a festive post-race Wine & Music Festival and awards ceremony in Solvang Park where runners sample local wine, food and beer while soaking up the atmosphere and sunshine. "What fantastic setting for a race here in the Santa Ynez Valley", said first-time participant Kristel from Huntington Beach. "It's the most beautiful course I have ever run."
The 2018 Santa Barbara Wine Country Half Marathon will be run on Saturday May 12th and has already opened registration.  For complete 2017 results and registration information visit destinationraces.com/runsb.
Up next on the schedule for Destination Races is the Virginia Wine Country Half Marathon on June 3, 2017.  This popular race is located at Doukenie Winery in Loudoun County near historic Leesburg, VA.   That race is followed by the sold-out Napa-to-Sonoma Wine Country Half Marathon on July 16th.
TOP FINISHERS
Men
| | | | | | |
| --- | --- | --- | --- | --- | --- |
| Pos. | Name | City, State | Age | Time | Diff |
| 1 | SERGIO REYES | PALMDALE, CA | 35 | 1:07:55.50 | +0:00 |
| 2 | SEAN GILDEA | DANA POINT, CA | 25 | 1:12:11 | +4:15.50 |
| 3 | COLIN HACHER | VENTURA, CA | 29 | 1:15:36.70 | +7:41.20 |
Women
| | | | | | |
| --- | --- | --- | --- | --- | --- |
| Pos. | Name | City, State | Age | Time | Diff |
| 1 | LIZA REICHERT | LOS ALTOS HILLS, CA | 29 | 1:21:26 | +0:00 |
| 2 | DANI MORENO | SANTA BARBARA, CA | 25 | 1:28:23.60 | +6:57.60 |
| 3 | JENESSA ROSE | CARLSBAD, CA | 27 | 1:32:35.60 | +11:09.60 |
About Destination Races
Destination Races, based in Sonoma, California, is the pioneer producer of the Wine Country Half Marathon Series. Founded in 2004, the Wine Country Half Marathon Series consists races across notable wine regions in North America, offering unforgettable experiences on and off the course, including the popular post-race Wine and Music Festival. Runners travel to participate in these boutique destination races designed to feature the area's top wineries and other attractions. Current races include Santa Barbara, California; Northern Virginia; Napa-to-Sonoma, California; Oregon (Willamette Valley); Kelowna, B.C.; and Healdsburg, California;.
For more information on the event series and Destination Races, visit DestinationRaces.com. You can also find them on facebook.com at /destinationraces, on Twitter @winecountryhalf, and on Instagram @winecountryhalf.
CONTACT:
Media contacts: 
Michael Coats, (707) 935-6203 or michael@coatspr.com or
Allison Coats (707) 363-6508 or allison@coatspr.com
Destination Races:
Hillary Gibson, (707) 933-1769 or hillary@destinationraces.com