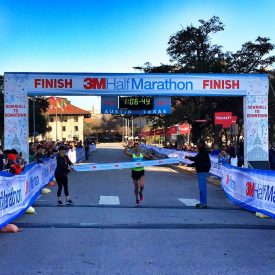 AUSTIN, Texas, January 23, 2017 — The 23rd Annual 3M Half Marathon, produced by High Five Events, endured high, swirling winds on Sunday, January 22nd. The fierce winds didn't stop the elite men and women from putting in some speedy times or deter hundreds of participants from PRing on one of the nation's faster half marathon courses.
More than 6300 participants registered for the race also known as Downhill to Downtown. Other than the forecasted high winds, the weather was perfect for running. Runners toed the start line at 7:30 a.m. and begin their race to the Texas State Capitol. Navigating their way downtown, runners enjoyed a full supported course, complete with eight stocked aid stations, a CLIF Bar CLIF Zone, and thousands of cheering spectators with hilarious signs.
"I had heard many great things about Downhill to Downtown and am thrilled at the outcome of my first race on this course," said Samantha Stubbs, who PR'ed along with hundreds of other runners. "This event was very organized, well-supported, and the volunteers were beyond amazing."
Lauren Smith Stroud (1:17:07) was the overall female winner; with Nora Colligan (1:17:27) and Brooke Slayman (1:18:03) finishing second and third. The top three female Master's finishers were Chris Kimbrough (1:23:00), Tammy Bogle (1:25:07), and Christina Hughes Babb (1:29:06).
Mark Pinales (1:06:51) crossed the finish line first. Adam Waldum (1:08:49) and Daniel Glaz (1:09:03) completed the overall men's field, respectively. The male Master's finishing in the top three consisted of: Kevin Kimbell (1:15:55), Hernan Rozemburg (1:16:06), Steven Hernandez (1:16:45).
"The race was much windier than expected, but it was amazing running with so many of the local guys," said overall champ, Mark Pinales. "I'm humbled to take the win in my hometown. This race will be another crucial piece of the puzzle leading up to the Austin Marathon."
The 3M Half Marathon boasts one of the fastest 13.1-mile courses in the country and will open registration for 2018 on Monday, January, 23rd. Runners will enjoy a point-to-point course with mostly downhill running that showcases some of Austin's finest locations. Starting in north Austin and finishing in front of the Texas State Capitol, runners will appreciate a 306' net elevation drop.
About High Five Events:
Beginning with the launch of a single triathlon in 2003, High Five Events has grown to become one of the largest privately owned event production companies in the United States. In addition to the events it owns and produces, the Austin, Texas-based company offers consulting and event production services to dozens of additional events each year. High Five Events is community-centric and has more than 83 years' experience organizing large events across different venue types in a variety of locations. Follow High Five Events on Twitter (@highfiveevents), Instagram (@highfiveevents), and Facebook (facebook.com/HighFiveEventsWorldWide/) for news and updates.