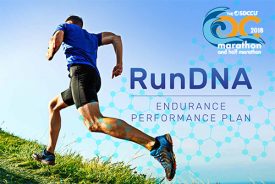 COSTA MESA, Calif. – ToolBox Genomics (TBG) today announced that the 2018 OC Marathon Running Festival has been selected as the first stop in a national field marketing campaign to introduce an expanded suite of DNA-based products that provide consumers with personalized and actionable fitness, nutrition and weight loss plans based on their genotype. The OC Marathon Running Festival hosts more than 23,000 participants, including over 9,000 children during the weekend of events. The running festival, held in Orange County, California, from May 4-6, features the SDCCU OC Marathon and Half-Marathon, the Wahoo's OC 5k, Kids Run the OC "Final Mile," the Ultimate Finish Line Festival and the OC Lifestyle and Fitness Expo.
As part of the marketing collaboration, TBG and the OC Marathon Running Festival will offer exclusive partnership pricing on the new DNA-based products at the event and related endurance events across the country. TBG will have a large presence at the OC Lifestyle and Fitness Expo, where a number of winners will be drawn to receive complimentary race entries for the 2019 OC Marathon, Half Marathon and 5k races, iPads and Bose headphones.
"The 2018 OC Marathon Running Festival is the ideal venue to introduce our new DNA-based, health and wellness products to thousands of fitness enthusiasts throughout Southern California," said Dr. Jessica Knurick, Director of Clinical Product & Education for TBG. "While DNA testing can provide some insight into health and wellness based on our DNA, it is not always actionable. Our new products provide consumers of all fitness levels with specific recommendations based on their genetic makeup to optimize their overall health."
TGB's new product portfolio, which can also be purchased at toolboxgenomics.com, includes:
RunDNA – For runners and other endurance athletes, RunDNA is focused on enhancing performance. This report provides a complete breakdown of 47 genes that are crucial for training, performance, nutrition and recovery for endurance athletes of all levels.
Empower – Called the "jumpstart package," Empower is designed to give consumers an overall view of 37 genes found to impact key domains of health, including nutritional optimization, weight management, aging, sleep, and exercise potential.
Thrive – To support weight loss, Thrive provides a full analysis of 22 genes, giving consumers specific and personalized guidance on how to achieve their healthiest weight.
Nourish – Designed to eliminate food confusion with a full analysis of 50 genes related to health and nutrition, Nourish helps consumers optimize diet to achieve ideal nutrition and determine whether and what type of nutritional supplements might be necessary.
TBG's first generation Health Action Planä relied on results of customers' 23andMe data. Their new products come with the launch of TBG's own proprietary genotype assay, which is processed by CLIA-certified and CAP-accredited labs. Using its own test allows TBG to evaluate an expanded list of biomarkers – beyond what is available through 23andMe – that make up the body's genetic blueprint. It also allows TBG to offer their products to customers who may not have completed a 23andMe test.
About ToolBox Genomics
ToolBox Genomics develops personalized, DNA-based products that give consumers customized weight loss, fitness and nutrition plans based on their individual genotype.  TBG is committed to providing understandable, actionable lifestyle recommendations that reflect the latest scientific and medical research. Learn more at www.toolboxgenomics.com.
About the OC Marathon Running Festival
Now in its 14th year, the 2018 OC Marathon Running Festival is a world-class event featuring the SDCCU OC Marathon and Half-Marathon, the Wahoo's OC 5k, the Kids Run the OC Final Mile, and the OC Lifestyle and Fitness Expo, all held at the Orange County Fair and Events Center in Costa Mesa, California, from May 4 to 6, 2018. The marathon and half-marathon is one of the best destination courses on the West Coast with a diverse terrain, changing coastal and inland vistas, and majestic ocean views. During the weekend, more than 23,000 participants, including over 9,000 children, will enjoy food, music and other family-fun entertainment.
To register for the races, or for more information about how to get involved including corporate sponsorships, visit ocmarathon.com, @OCMarathon, or email info@ocmarathon.com.