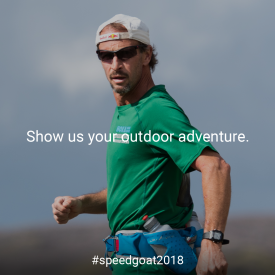 Karl gives away his signature UltrAspire waist belt, the Speedgoat 2.0
St. George, Utah – Karl Meltzer, Ultra Marathoner, aka the Speedgoat, nicknamed the winningest 100 mile runner on the planet; does what he does yet again. Karl is famously known for being the first human to run the Red Bull Human Express which is the full 2,064 miles which follows the original Pony Express Trail that goes from Sacramento, California to St. Joseph, Missouri. It took him 40 days in total to do so. In 2016 Karl set out to break the speed record for the Appalachian Trail, a 2,190 mile journey that resulted in a new fastest time. It took him 45 days, 22 hours and 38 minutes to do so.  On Saturday, February 10th 2018, Karl competed in the Lone Star 100 mile and not only set a new course record at 23:38:18 but garnered his 40th 100-mile race victory. On top of that accomplishment, Karl has set another record by going 18 years consecutively with at least one 100-mile victory.
Bryce Thatcher, owner and founder of UltrAspire has a history of over 25 years with Karl and has developed products with him for a very long time. "He (Karl) has always been a waist pack guy, and I knew that he would want a waist pack. Being a waist pack guy myself when I started UltrAspire I knew that Karl and I could come together to create something great. Having what we believe is the perfect running waist pack, super stable with everything at your finger tips was the goal. We feel we nailed that with the Speedgoat 2.0." Bryce said.
On Friday March 2nd, Karl stopped by the UltrAspire design headquarters to discuss future products and details on a celebratory giveaway for Karl's signature UltrAspire piece, the Speedgoat 2.0. This highly functional waist belt was built for stability. Conical shaped and combined with dual holsters for double the distance, front and back carrying capacity and zippered worry-free pockets the Speedgoat 2.0 is the answer to bouncy and unstable waist packs.  The contest will take place across the Karl Meltzer and UltrAspire Social Medias and will begin on Wednesday March 7th, simply post a picture of your outdoor adventure and tag @Meltzerkarl and @Ultraspire and use the hash tag #speedgoat2018 and be automatically entered to win a Speedgoat 2.0 waist belt.
About UltrAspire:
UltrAspire is a high-performance, innovative outdoor gear company. From competitive endurance sports to the casual adventurer, UltrAspire keeps to a very important code which is to create an inspired outdoor experience. Gear up with UltrAspire and experience the difference at www.ultraspire.com