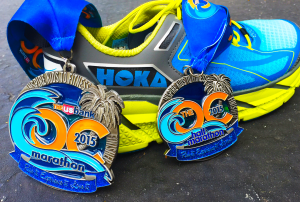 Brand signs two-year sponsorship demonstrating commitment to public health and fitness
The U.S. Bank OC Marathon is pleased to announce that HOKA ONE ONEwill return as the official footwear sponsor of the 2015 Marathon, OC Half Marathon and Wahoo's OC 5k May 1-3, 2015. HOKA ONE ONE is a shoe designed for all types runners, from joggers to elite athletes looking to improve their performance. The brand committed as a sponsor of the U.S. Bank OC Marathon for a two-year term, demonstrating a commitment to leading the running revolution.
"We welcome HOKA ONE ONE back to the OC Marathon family as the Official Footwear Sponsor," commented race director, Gary Kutscher. "HOKA ONE ONE is a great fit for our event, and together, we are committed for the next two years to enhancing the runner's experience and making this year's OC Marathon the best-ever."
HOKA ONE ONE has engineered a unique performance midsole geometry that features a higher volume, softer density, and greater rebounding foam than standard running shoes. Along with maximal cushioning, this provides runners of all types with an energizing, stable ride. HOKA ONE ONE understood from the beginning that natural foot motion was extremely important for uniformity of stride. HOKA ONE ONE incorporated minimum drop geometry along with a rolling rocker design to promote consistent rhythm in the runner's foot strike.
For more information regarding The U.S. Bank OC Marathon please visit www.ocmarathon.com.