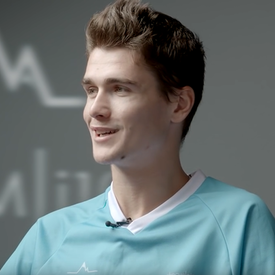 Glasgow, UK (20th March 2017) – Welcoming the first day of spring 2017, specialist altitude simulator brand Altium i10 has congratulated sponsored athlete Callum Hawkins for another breath-taking performance – this time in New York.
At the 2017 United Airlines NYC Half on Sunday, March 19th, Callum continued his early season strong form. He finished a close second behind Olympic marathon silver medallist Feyisa Lilesa of Ethiopia. While the record books will record the win for Feyisa Lilesa, only four seconds separated the two elite runners; and the race will be remembered for the battle between Feyisa of Ethopia and Callum from Scotland.
In the women's elite race, Molly Huddle of the United States took the win, racing side-by-side and finally outsprinting her training partner Emily Sisson in another close finish. Here, there were only two seconds between first and second place.
The blistering pace set by Callum resulted in a personal finish time of 60:08 – a mere eight seconds short of the Scottish half-marathon record he ran in Japan last month. In New York, the battle with Feyisa Lilesa ensued in the final few miles of the half marathon.
"I was just thinking, like, 'Why won't he leave me alone?'" Callum joked after the race. "It was really fun running through Manhattan and such an exciting race. But overall it was just really tough; and I was throwing everything I could just to get rid of Feyisa, but he was just too strong in the end."
The brave effort by Callum in New York builds on a run of good form. After a strong outing at the 2017 Great Edinburgh XCountry in January, Olympian Callum delivered a resounding victory at the Scottish National Cross Country championship in February.
Alan Montgomery, Director at Altium i10 said, "Callum's strong performances are really setting up his 2017 race season. It follows his impressive ninth place at the 2016 Rio Olympic marathon, where he was again battling at the front of the pack during a notable period of the race."
He continued, "Each race he takes on, Callum is building in stature. As Callum is a long-term ambassador of Altium i10, all of us in our team are tremendously proud. 2017 is looking like a really exciting year for Altium i10, and we wish all of our athletes the very best as they take on the competition."
Altium i10 has built a following across the wider sports and outdoor fitness communities over the past 18 months. The brand sponsors the BMC-Etixx Pro Triathlon Team, Callum Hawkins, who finished ninth in the Rio 2016 Olympic Marathon, and his Olympian brother Derek Hawkins. Other sponsored athletes include 2015 British Half Marathon Champion and English 10,000m Champion Jess Coulson.
For more information on Altium i10, visit www.altium-i10.com. 
About Altium i10
Based in Glasgow and officially launched in September 2015, at the Cycle Show in Birmingham, UK, Altium i10 has been making waves across the endurance sport community in recent months. Altium i10 is currently being used by keen amateur athletes competing at age-group level, along with elite cyclists, runners and triathletes aiming for the Olympic Games and the pinnacle of their chosen international sport.
Brand ambassadors include: the BMC-Etixx Pro Triathlon Team powered by Uplace; Rio 2016 athletes Callum & Derek Hawkins (marathon); Lee Jones (rugby); Hannah Miley (swimming); and former British Half Marathon Champion Jessica Coulson.
Unlike altitude tents or other simulators that can be priced in the thousands, Altium i10 is priced at £499 (US$600). This includes the device and cartridges for the main 28-day altitude simulation phase. Cartridges typically last two to three sessions and can be bought separately at £10/$12 per unit. A free iPhone app works with the device to analyse and track progress. Altium i10 is billed as 'the performance edge you have been searching for'. It offers a way of physically stressing the body to simulate altitude without overloading the body. It is a convenient and alternative method to deliver the endurance benefits of being at altitude.
www.altium-i10.com
twitter.com/altiumi10
facebook.com/altiumi10
Contact details:
Alan Montgomery, Director
Altium i10 – the performance edge you have been searching for
+44 (0)7718 917105
alan@altium-10.com