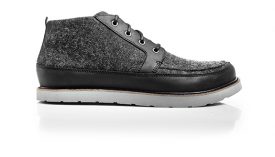 (Logan, UT — January 10, 2018) Altra is launching fresh, new casual shoes to embrace its "Every Road, Every Trail, Every Day" motto. All casual shoes are built on the same now-iconic combination of FootShape™ toe box and Zero Drop™ platform for a range of non-running occasions. Altra's four new shoes are the Commute Boot, Smith Boot, the Cayd and the Vali.
"The relaxed-foot benefits of Altra Footwear are now available to everyone, regardless of whether they use our shoes on the road, in the mountains or at the office," said Golden Harper, Altra founder. "When your toes can spread naturally and your heels aren't elevated, even just an inch, your feet are in their most natural, powerful, and healthy position."
The Altra Commute features a sophisticated charcoal grey wool blend with black leather trim for a simple, subtly elegant boot that would be equally at home sipping craft beers in Portland or lunch at the Explorer's Club in Manhattan. A DWR coating for weatherproofing keeps it looking fresh and the gray outsole shuns stains. The Commute has a stack height of 24 mm, weighs only 11.3 ounces and is available now for $140.
Altra's new Smith Boot is made with premium leather in rich chocolate brown or black. Weighing only 11.3 ounces with a just-right 24 mm midsole, this shoe is as comfortable as it is stylish. Coated with DWR for weatherproofing, the $130 Smith Boot is the perfect weekday workhorse for business casual, the ideal weekender footwear for the local neighborhood or the perfect option as your one pair of shoes for travel.
The new Altra Cayd—a Welsh term meaning battle—lets you conquer any day with an old-school tennis shoe-meets-skater shoe look. The premium leather upper is coated for water and weather protection, and the full-grain cowhide lining is perforated for maximum breathability. A detailed midsole with a 25 mm stack height adds style to the plush fit. Weighing just 10.4 ounces, this is a lightweight casual shoe you'll never want to take off. The Cayd is available now for $130 in denim blue, black and coffee brown.
The Altra Vali features a soft knit upper in tonal yarns with a sock-like opening around the ankle, matching lacing and an integrated one-piece tongue. This shoe has a stack height of 23 mm for men with a weight of 8.6 ounces, and 19 mm for women with a weight of 6.1 ounces. The Vali is available for $110 and comes in black/charcoal mélange, forest/bark mélange, burgundy/pine mélange for men and grey/cream mélange, black/charcoal mélange, sage/slate blue mélange for women.
Learn more about these new casual shoes at www.AltraRunning.com or at your local specialty running retailer.
About Altra
While working at a running store, Altra founder Golden Harper was frustrated that modern running shoe technology caused poor running form and had not decreased running injuries. His passion to create a shoe that followed the science produced Altra's FootShape™ toe box and Zero Drop™ platform. Since its founding in 2011, Harper and co-founder Brian Beckstead have grown Altra from one to 25 shoe styles, winning multiple Editor's Choice awards and distribution in more than 60 countries. Join the conversation @AltraRunning and #ZeroLimits on Twitter, Instagram and Facebook.
Media Contact: Colleen Logan, VP Marketing, clogan@iconfitness.com.