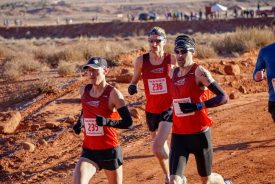 (Logan, UT — February 22, 2018) Altra dominated the podium last weekend at Moab's famous Red Hot 55k/33k trail race. Tyler McCandless from Altra's Elite Team crushed the course record by nearly 12 minutes to grab first in the 33k with a time of 1:56:21. Right behind him was Altra Tech Rep Chase Coffey at 2:07:18 for second place. Kyle Pietari from Altra's Elite Team ran the 55k, getting third with a time of 4:08:56, while Betsy Bies from the Altra Red Team finished third female in the 55k at 5:16:16.
Altra was also well represented off the podium. Other racers from the Altra Red Team at the 55k distance were Adam Delu, Emir Dedic and Francesco Perri, along with Altra's employees Laurel Devore and Brayden Hiltz. The 33k distance featured Altra Elite Calum Neff, Altra co-founder Brian Beckstead and a solid showing of Altra employees including Ashleigh Jameson, Ben Bartley, Cedric Scott, Charli McKee,  Eric North, Evan Fortune, Justin Robbins, Kyle Northrop, Romald Brun and Tracie Akerhielm.
About Altra:
While working at a running store, Altra founder Golden Harper was frustrated that modern running shoe technology caused poor running form and had not decreased running injuries. His passion to create a shoe that followed the science produced Altra's FootShape™ toe box and Zero Drop™ platform. Since its founding in 2011, Harper and co-founder Brian Beckstead have grown Altra from one to 25 shoe styles, winning multiple Editor's Choice awards and distribution in more than 60 countries. Join the conversation @AltraRunning and #ZeroLimits on Twitter, Instagram and Facebook.
Media Contact: Colleen Logan, VP Marketing, clogan@iconfitness.com.