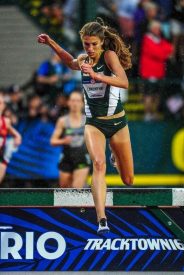 Elite steeplechaser out of Michigan State University signs with Chris Mengel as her agent
Katie Landwehr, an All-American in the steeplechase and Big Ten Conference champion out of Michigan State University, has signed an agency contract with Elite Runner Management.
"We are tremendously excited about the opportunity to represent Katie. She had a breakout year in 2017 and is just starting to scratch the surface of her true potential. Along with her long-time coach at MSU, Walt Drenth, we are honored to be a part of Katie's team to help her achieve her personal best both on and off the track," said Christopher Mengel, owner of ERM, a Michigan-based sports agency.
A state cross-country champion out of Tippecanoe High in Tipp City, Ohio, Landwehr had an outstanding college career at Michigan State. She won several championships in both the 3000m and 3000SC events including the Virginia Classic, the Raleigh Relays (twice), the SPIRE NCAA D-1 Indoor Invitational, the ACC-Big Ten Challenge, and the Big Ten Conference Championship. In 2016, Landwehr finished her college career at Michigan State being named an All-American in the steeplechase and then making the finals at the U.S. Olympic Trials in Eugene, Oregon, finishing 11th.
As a professional, Landwehr set personal bests in 2017 at 4 different distances — the road mile, 3000 meters, 5000 meters, and the 3000 meter steeplechase. Her steeple personal best of 9:37 flat, set in Goteborg, Sweden, is 5 seconds under the IAAF world qualifying standard of 9:42. For her efforts, Track & Field Magazine rated Landwehr in the top 10 of all U.S. steeplechasers in 2017 and IAAF.org ranked her as the 42nd best steeplechaser in the world.
Landwehr is confident that ERM is the right fit for her at this stage of her career. "When looking  for representation I didn't want to be just another athlete on the agent's long roster of athletes.  I chose Chris and Elite Runner Management because he represents a small number of gifted athletes who are committed, supportive, and successful in their running careers," Landwehr said. "By giving personal attention to each of his athletes, Chris brings a wealth of experience which will help me become the best I can be, not only on the track, but also in the personal and business aspects of the sport."
Landwehr said her immediate goals are to improve her times in the steeplechase and become a more well-rounded athlete by exploring her potential in other events such as the mile, both on the track and roads. "While I do have specific goals in mind, I want to focus on the process of getting better on a daily basis and to emphasize those things I can control like getting stronger, staying healthy, training smarter, improving my mental toughness, and getting out of my comfort zone," Landwehr said. "If there is one thing Coach Drenth has taught me, it's to embrace the process and focus on things that I can control."
For questions, interviews or further information, contact
Christopher Mengel, Elite Runner Management at 313-492-5861
or at eliterunnermanagement@gmail.com
photo courtesy of Michael Scott 2016. https://miscottrunningphoto.shutterfly.com