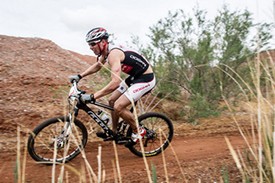 Since XTERRA started opening its season in the desert outside the Las Vegas strip in 2009 Josiah Middaugh has been dropping faster swimmers one brutal hill climb at a time. In doing so he's won the XTERRA West Championship two of the last three years, and placed 2nd to Conrad Stoltz in the other three.
Lake Las Vegas, Nevada (April 9, 2014) – Since XTERRA started opening its season in the desert outside the Las Vegas strip in 2009 Josiah Middaugh has been dropping faster swimmers one brutal hill climb at a time. In doing so he's won the XTERRA West Championship two of the last three years, and placed 2nd to Conrad Stoltz in the other three.
This year, with Stoltz racing at XTERRA New Zealand on the same weekend, Middaugh enters Sunday's race as the clear-cut favorite, the fastest in the field.  He's the reigning West Champ, the defending XTERRA U.S. Pro Series Champ, and the top American at both the U.S. and World Championships last year.  Still, humble is the rule for the 35-year-old…
"I think both the men's and women's races are wide open," said Middaugh in a phone interview this morning from his home in Eagle-Vail, Colorado where he took his daughter sledding yesterday.
"There are a lot of fast guys in the field and with it being so early in the season it's hard to know what to expect.  I know Dan (Hugo) has been racing fast on the Asia-Pacific Tour, and the kid Mauricio (Mendez) is amazing, and Luke McKenzie is one of the better cyclists in all of Ironman so you know he can pedal, Chris Legh can make up a ton of time on the run, and Matt Lieto is tough too, so it'll be fun to see how it goes.  I'm definitely excited about starting the U.S. season."
Others wouldn't be so fast to agree that the race is "wide open." In fact, even after Hugo won XTERRA Guam two weeks ago, his third World Tour race win of the season, he made a point to say it would be "a different game in Vegas vs. Josiah."
That's because Hugo, and the other dozen or so pros that beat him out of the water have seen Middaugh's "beast mode" in full effect.  He traditionally exits the swim one-to-three minutes behind his toughest competitors, then unleashes on the bike and run.
"I've actually been working a lot on my swimming in the off-season…haven't gotten any faster though," chuckled Middaugh, the epitome of dedication when he's walking out in sub-zero temps to do laps in the pool in January (see proof).
His most interesting counterpart for Sunday has to be rookie sensation Mauricio Mendez, an 18-year-old from Mexico City.  Last year Mendez took the XTERRA World by storm here in Vegas by posting the fastest swim and run splits of the day and finishing 7th overall.  He proved it was no fluke repetitively for the rest of the season which culminated with the amateur world title in Maui.  Two weeks ago Mendez finished third behind only Leonardo Chacon and Middaugh in his pro debut at XTERRA Costa Rica.
"When I passed him on the bike he put up a strong fight, and he can outrun me on the flats" said Middaugh.  "I'm going to need to catch him as soon as possible on the bike in Vegas and put some time in on the climbs."
In the XTERRA Costa Rica highlight video they show a post-race interview with Mendez in Spanish, complete with subtitles. Here's what he said…
"Pursue your dreams, fight for want you want, believe in yourself.  I think that is the basis for everything.  The only success is finding a way to live your life your way."
Rank – Name – Age, Hometown
1 – Josiah Middaugh – 35, Vail-Eagle, CO
2 – Dan Hugo – 28, Stellenbosch, South Africa
3 – Branden Rakita – 33, Colorado Springs, CO
4 – Ryan Ignatz – 35, Boulder, CO
5 – Bradley Weiss – 25, Cape Town, South Africa
6 – Craig Evans – 36, Hendersonville, TN
9 – Nick Fisher – 28, Ogden, UT
10 – Will Kelsay – 32, Boulder, CO
14 – Andy Lee – 41, Lakeway, TX (Great Britain)
15 – Chris Ganter – 35, Boise, ID
18 – Will Ross – 24, Anchorad, AK
19 – Matt Lieto – 35, Bend, OR
24 – Karsten Madsen – Guelph, Ontario, Canada
25 – Ryan DeCook – 33, Rochester, MI
NR – Chris Bagg – 34, Portland, OR
NR – Brendan Halpin – 29, Missoula, MT
NR – Chris Legh – 41, Lyons, CO (Australia)
NR – Luke McKenzie – 32, Encinitas, CA (Australia)
NR – Mauricio Mendez – 18, Mexico City, Mexico
NR – Jeff Smith – 31, Portland, OR
NR – Justin Thomas – 39, Reno, NV
NR – Alexander VanderLinden – 24, Ontario, Canada
WOMEN'S RACE
In the last five years of racing in Vegas Melanie McQuaid (twice), Shonny Vanlandingham, Renata Bucher, and Lesley Paterson have won the titles.  Of that bunch, only Vanlandingham, the 2010 winner, will line-up on the sandy shores in front of the Reflection Bay golf club on Sunday.
The 44-year-old is fresh off a win at XTERRA Costa Rica, and living proof that age is just a number.  One of the greatest mountain bikers in U.S. history, Vanlandinhgam consistently posts the best bike splits at the biggest races.  She'll need to do that once again if she wants to catch the likes of Flora Duffy, a 26-year-old Olympian from Bermuda who swims as fast as the best men in the sport.
Duffy, who was third at the XTERRA World Championship last year and won the XTERRA South Africa Championship in February, enters her first season as a full-timer with the XTERRA U.S. Pro Series on Sunday.  One could guess she'll do great on this course, which is deemed to be more about fitness than technical mountain biking skills, but as Middaugh pointed out, "it's still rough out there, and you'll need some courage to get through some of the downhills and the sandy washes require some skill."
There are a host of proven XTERRA women pros familiar with those sandy washes that will certainly be factors on the day with Emma Garrard (pictured above), who was the top American at both the U.S. and World Championships last year, the "Big Fish" Christine Jeffrey (top 3 here in 2009-2011), Danelle Kabush, and last year's runner-up Suzie Snyder.
The pro race starts at 8am PST on Sunday.  Follow along @xterraoffroad and check facebook.com/xterraplanet for race updates and photos.
Rank – Name – Age, Hometown
2 – Shonny Vanlandingham – 44, Durango, Colorado
3 – Danelle Kabush – 39, Calgary, Alberta, Canada
5 – Suzie Snyder – 32, Fredericksburg, Virginia
6 – Emma Garrard – 32, Park City, Utah
8 – Christine Jeffrey – 41, Tucson, AZ (Canada)
11 – Jamie Brede – 36, Breckenridge, Colorado
12 – Katie Button – 28, Victoria, B.C., Canada
14 – Tamara Donelson – 37, Edwards, Colorado (Australia)
15 – Chantell Widney – 34, Edmonton, Alberta, Canada
19 – Flora Duffy – 26, Boulder, CO (Bermuda)
NR – Rebecca Blatt – 34, Lakewood, CO
NR – Solana Kline – 31, Bend, OR
NR – Kara LaPoint – 26, Truckee, CA
NR – Amelia McCracken – 30, Philadelphia, PA
LIST OF WHO'S WHO SET FOR AMATEUR RACE
The XTERRA West Championship brings out the best, that's for certain.  As proof, simply look at the start list which features more than a dozen current and former XTERRA National and World Champs including:
4x World Champ Hannah Rae Finchamp (15-19)
2x World Champ Liz Gruber (aged up to25-29)
2x National Champ Mat Signoretty (aged up to 25-29)
Reigning WC Debby Sullivan (30-34)
Reigning National Champ Maia Ignatz (30-34)
Reigning National Champ Matthew Balzer (30-34)
5x World Champ Cal Zaryski (45-49)
4x National and World Champ Tom Monica (55-59)
4x World Champ John Royson (60-64)
4x National Champ Kathy Frank (65+)
Reigning PC National Champ Craig Vogstberger
Count on yet another great battle between Finchamp and Gruber for the women's amateur title, while Signoretty chases Balzer for the amateur men's crown.
Also of note last year's 25-29 division World Champ Kara LaPoint went Pro and this will be her first-race as an elite.  The overall amateur men's World Champ Mauricio Mendez also went pro, and is one of the race favorites.
The most "experienced" in the field are 72-year-old Roger Kern for the men and 66-year-old Kathy Frank for the women – both former XTERRA World Champions.  The youngest is Mitch Child from Salt Lake City, Utah – who turned 15 on March 9, and Rachel Anders from Sandy, UT, who is 16-years-old.
The top finishers in each division will earn one of 46 qualifying spots into this year's XTERRA World Championship in Maui, and the top 15 in each division will score championship-level points in the XTERRA America Tour Points Series.
Visit www.xterralakelasvegas.com for more details.
—
2014 marks the 19th consecutive year of XTERRA racing, and the 6th straight year the West Championship has been held at Lake Las Vegas Resort in Henderson, Nevada.
The XTERRA West Championship is the first of four regionals in the America Tour, and offers up $15,000 in prize money for pros and 47 qualifying spots into the XTERRA World Championship for amateurs. Age group competitors will also earn points in pursuit of winning their region and qualifying for the invite-only XTERRA USA Championship held in Utah on Sept. 20.
About TEAM Unlimited/XTERRA
TEAM Unlimited is a Hawaii-based television events and marketing company, founded in 1988.  It owns and produces XTERRA and in 2014 will offer more than 300 XTERRA off-road triathlon and trail running races in 25+ countries worldwide. In addition, TEAM TV has produced more than 300 adventure television shows resulting in three Emmy's and 42 Telly Awards for production excellence since 1990.  View samples at www.xterra.tv, and learn more at xterraplanet.com and xterratrailrun.com.