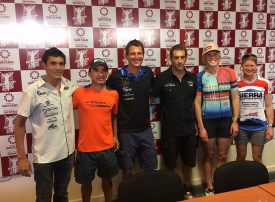 Reigning XTERRA Pan America Tour Champion Suzie Snyder starts her title defense at the 2nd annual XTERRA Argentina Championship race in San Juan on Saturday
The 2017 XTERRA Pan America Tour gets underway Saturday at the second-annual XTERRA Argentina Championship in San Juan.
American Suzie Snyder, the reigning Pan Am Tour Champ, says she had a good off-season and is ready to start her title defense on Saturday.
"I feel cautiously good about the upcoming season," said Snyder, who had a breakout year in 2016 with five big wins and a 3rd-place finish at XTERRA Worlds. "I've worked really hard on my running over the winter because I felt like I struggled with that last year while still recovering from the pelvis injury in 2015. I think I maintained my swim fitness pretty well, but may have let my cycling slip a bit so this first race will be a good way to see where I'm at."
Snyder will face off against fellow American and familiar foe Kara LaPoint, who finished 3rd in the Pan Am Tour last year and is also eager to see where she stands after a winter spent training and recovering from an injury.
"This will be the first opportunity I've had to test myself now that I'm healthy and I'm really excited," said LaPoint. "I'm staying relaxed and focused, but I'm looking forward to opening it up out there and seeing what I've got."
Laura Mira Dias from Brazil, who was third at this race a year ago, is back in the mix and the wild card in the women's field has to be Morgane Riou, who finished 5th on the XTERRA European Tour in her rookie elite season last year.
"Winter training went well, with big efforts on the mountain bike," said Riou, who is a Commandant in the French military. "I'm ready for the hills and looking forward to starting the season in San Juan."
Euro Tour director Nico Lebrun did some training with Riou in February and said she has come a long way in the last few years.  "It's amazing the progress she has made on the mountain bike.  Three years ago it was her weakness, and she took the challenge to get better seriously and worked a lot on her skills.  She had to slow down a little bit on the run training to focus on riding, but she is a natural runner, and I'm 100% sure that if she can put up a strong bike split, she will run fast anyway."
Still, the favorite is the seasoned vet Suzie Snyder, who added "I've been racing XTERRA for 14 years because I love the sport.  Off-road training and racing is full of friendly people, whom I've made great friends with and the training and racing is both fun and challenging, which is what keep training and racing fresh, allowing me to continue training hard and dedicating myself to becoming the best athlete I can be."
The men's elite race is highlighted by another XTERRA veteran, American Branden Rakita who finished fourth on the Pan Am Tour last season.
"I want to win one of the XTERRA Pan Am series races this year," said Rakita, who has come close several times including a runner-up performance in the Dominican Republic last year.  "I have come close but wins never come easy, they really have to be earned.  I am looking to start the year strong at XTERRA Argentina. It is always a bit of an unknown going into the first race of the year to see how the body will respond from the training, but I know it is going to be a great experience and I look forward to the challenges that this new course will bring."
Expect to see Canadian Jean-Philippe Thibodeau come out of the water early with Rakita, as the strong swimmer from Quebec continues his momentum from 2016.  And local favorite Maximiliano Morales, who was third in the race last year, is hoping to be on the podium this year as well.
Frenchman Julien Buffe is also in the mix, and hoping to make a big step-up from his rookie pro season last year when mechanical problems and bad luck affected his racing.  Lebrun believes his persistent effort and strong off-season could reveal his true XTERRA potential in 2017.
XTERRA World Tour managing director Dave Nicholas is in Argentina to cover all the action and says everything is looking good for an exciting race weekend.
"It's been a great start to our second year here in San Juan," said Nicholas.  "Suzie, Branden, Kara and I did a TV interview live on Channel 8, the biggest local station, last night and this morning we had a huge press conference with every newspaper and TV station in the entire province at San Juan's sports center.  This facility is huge and is used for concerts, ice hockey, boxing and more.  The secretary of sports for the province, Jorge Chica, was our host and has been very important in supporting XTERRA."
The main event features a 1500-meter swim in Lake Ullum followed by a 30km mountain bike segment, and 9.5km trail run. The trails are primarily hard, packed earth and rocks, due to the arid environment, and the mountain bike course includes several technical sections, including an 1800-meter climb out of a dry riverbed followed by a quick drop.
The XTERRA event is part of a three-day race festival, which includes open water swims, trail races, and a 50K mountain bike race.
"San Juan is a major metropolis of 700,000 citizens and a great place to visit," said Nicholas.  "There is jet service into the small airport from several major cities in South America.  San Juan is a huge wine production region – the 2nd largest in Argentina and believe me; the local Malbec is as delicious as the local beef.  Recently the silver and gold mines have been revived with new technology, so this part of the world is doing very well."
San Juan is near the base of the Andes Mountains and as the southern hemisphere heads into autumn temperatures are mild, humidity is low, the scenery is spectacular, and for sure the racing will be fast.
Learn more about the XTERRA Pan America Tour here.