When Every Second Counts: Tips for Race Timers
May 9, 2018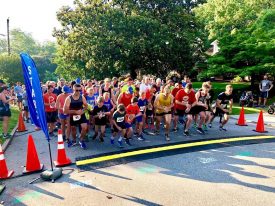 In the world of endurance events, every second counts, and nobody knows the need for speed like a race timer. Tasked with tracking, tabulating and delivering results, timers take on a crucial and often logistically complicated job–but a new solution is streamlining the process from start to finish line.
BEATING THE CLOCK 
Sloan Ware is owner and timer at Atlanta-based Horizon Race Solutions. His years of experience in race timing and management, as well as setting his own PRs on the course, add up to a smart perspective. When Horizon took on timing the Atlanta Dogwood Festival Mimosa 5K, Ware set himself up for success by using the ACTIVE Lifecycle: Super Elite Readers with UHF technology, ACTIVE Timing, ACTIVE Results and ACTIVEWorks® Endurance.
Because the ACTIVEWorks® Endurance platform pushes all data to ACTIVE Timing, Horizon was able to sync participant records with the data captured from the participant's UHF tags and Super Elite Readers to the scoring platform–no list uploads required.
ACTIVE Results 3.0, launched in April of this year, was another key to Ware's winning timing strategy. It's all about the seamless data flow.
This new solution allows timers and event directors to immediately share results with participants on the ACTIVE Results platform by automatically syncing registrant information from ACTIVE Works Endurance and times from the IPICO hardware to ACTIVE Timing. When using the ACTIVE Lifecycle, timers can also take advantage of pushing live results to ACTIVE Results during the race. 
"There is no downside for us in using ACTIVE Results. All it takes is one extra mouse click within ACTIVE Timing." 
RESULTS YOU CAN COUNT ON 
ACTIVE Results 3.0 solves a whole host of challenges for race timers, starting with posting accurate results at a new rate of speed. Throughout the event it allows for one-click publishing of results by the timer, with no extra work or manual integration, published to a live leaderboard that can be viewed from any browser.
"In the past, we have published results to our website, emailed them to the race director and posted to a few other websites," says Ware of his former process, which was tedious and time consuming. "With the new ACTIVE Results 3.0 getting data in real time from our timing software, publishing results take no extra time or effort."
In addition to saving precious time for timers, Ware also notes a greatly improved experience for race directors. Participants can send requests directly from the ACTIVE Results event page, eliminating the need for directors to field inquiries.
When all was said and done–or said and run, we should say–Ware's final read rates were in the 98-99% range for the Dogwood's over 1,500 participants. "No one came through and didn't get a read that I saw, and I haven't had anyone reach out to me and say their time was wrong." 
"With the new ACTIVE Results, everything is published in real time. When a participant runs the event, they can find their time instantly. We don't have to stress about posting results – it's done the moment the participant finishes." 
Pro Tips 
Email participants before the race and remind them how they can track live results during the race and where to find them directly after. Get started with our 27 Event Email Templates E-Book.
Providing live results doesn't have to require large annual fees. Talk to a product specialist to learn more about cutting this cost!
Participant disputing results? Eliminate the need for Race Directors to spend valuable time managing the dispute resolution process. It's as simple as the push of a button with ACTIVE Results.
The ACTIVE Results 3.0 Solution
Participants can see results immediately after the event.
Track a live leaderboard on the event's ACTIVE Results page.
Provides easy access to timing information for Event Directors.
Minimize race day results inquiries.
When used with ACTIVE Timing, disputes are solved with the tap of a button.
*Image courtesy of Sloan Ware, Horizon Race Solutions. Any images previously displayed herein were shown in error.