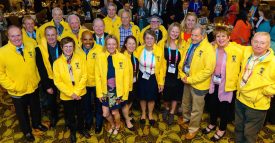 RRCA Hall of Fame Members Celebrated for their Contributions to the Sport
(Arlington, VA- April 8, 2018) – Since 1958, members and supporters of the Road Runners Club of America (RRCA), the oldest and largest organization dedicated to the promotion of distance running, have gathered in different cities around the country for the RRCA National Convention. This year, the 60th RRCA National Convention was held in Arlington, VA in partnership with the Credit Union Cherry Blossom Race, which served at the RRCA National 10 Mile Championship Event. While the official birthday of the RRCA is February 22, 1958, the organizations birthday bash was held on April 7.
Nearly 400 attendees, volunteers and VIP guests enjoyed the events of the RRCA Convention, which consists of highly-relevant education sessions for club leaders, event directors, coaches and running enthusiast volunteering and working in their local running communities.  
During the birthday celebration, the RRCA unveiled its 60th Anniversary birthday cake created by Charm City Cakes in Baltimore, Maryland. Past RRCA presidents, Gar Williams, David Cotter, Brent Ayer, Don Kardong, and Mitchell Garner (current president), were on hand to help cut the cake that was served to all the guests at the dinner. 2018 Hall of Fame inductees, Bart Yasso and Amy Cragg, were celebrated for their contributions to the sport along with the many 2017 National Running Award Winners in attendance.
The RRCA welcomed nearly twenty current RRCA Hall of Fame Members, including: Craig Virgin, Steve Spence, Jon Sinclair, Amby Burfoot, Hal Higdon (RRCA founding member), Julia Emmons, Meb Keflizighi, Bob Larsen, Deena Kastor, Don Kardong, Bart Yasso, Jacqueline Hansen, Sara Mae Berman, Doug Kurtis, Kim Jones, Lisa Rainsberger, Jeff Darman, Anne Audain, and Gar Williams (RRCA founding member). Guest to the event were treated with a complete history book of all RRCA Distance Running Hall of Fame Members.
"It was an amazing evening and opportunity to see friends that I raced with," said Anne Audain.  "We were fierce competitors back in the day, but after the race was over, we celebrated each other's victories over a beer.  It was simply amazing to see these great women after so many years."
Photos from the event, taken by Dallas Running Club's, George Vasquez, can be found at: Rico Photo. Details about the 61st RRCA Nation Convention in New Orleans, Louisiana, March 28-31, 2019, can be found at  www.RRCA.org/Convention/
About the RRCA:
The Road Runners Club of America (RRCA) is the oldest and largest national association of running organizations and runners dedicated to growing the sport since 1958. The RRCA champions the development of community-based running clubs and events that serve runners of all ages and abilities in pursuit of health and competition. The RRCA's vision is to see an organized running club established in every community in the U.S. To learn more, visit: www.RRCA.org