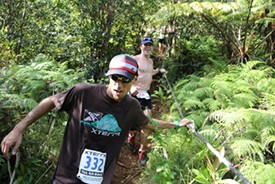 More than 2,000 runners from 20 countries and 40 states are entered, but once again, the site of the race will be the star of the show. The majestic Kualoa Ranch will serve as the host site for the seventh consecutive year, and the runners will be treated to trails that are breathtaking in more ways than one.
Honolulu, HI (December 4, 2014) – A diverse and talented field of trail runners from around the world will participate in the 2014 Paul Mitchell XTERRA Trail Run World Championship on Sunday, December 7.
More than 2,000 runners from 20 countries and 40 states are entered, but once again, the site of the race will be the star of the show. The majestic Kualoa Ranch will serve as the host site for the seventh consecutive year, and the runners will be treated to trails that are breathtaking in more ways than one.
The main event is an adventurous half-marathon (13.1-mile/21km) that starts at the base of Kaaawa Valley.
Established in 1850, Kualoa Ranch is a family owned and operated 4,000 acre working cattle ranch, spread from the steep mountain cliffs to the sparkling sea. Located on the northeastern side of Oahu in the Hawaiian countryside, it is less than an hour from Honolulu.
The ranch terrain varies from dense rainforest to broad open valleys and from beautiful white sand beaches to awesome verdant cliff faces. It is truly a paradise for outdoor recreation with many places accessible only by horseback, on an all-terrain vehicle or by hiking.
There are two major areas of the ranch: the northern half of the ranch including Ka'a'awa Valley which contains most of the movie locations sites, and the southern half that includes Hakipu`u Valley, the 800 year-old Moli'i fishpond, and Secret Island.
If the ranch's views look familiar, that's because Kualoa Ranch has been the site of many television shows and Hollywood films such as Jurassic park, Windtalkers, Pearl Harbor, Godzilla, Tears of the Sun and 50 First Dates. TV shows include Hawaii Five-O, Magnun P.I. and the hit show LOST.
Kualoa Ranch will be further exposed by the race itself, which is being filmed and edited into a segment for a 2015 XTERRA Adventures TV series that will be seen by millions of viewers across the country via national syndication starting in May and online at XTERRA.TV. You can check out the promo piece for worlds at www.XTERRA.TV.
UTAH RUNNERS HIGHLIGHT MEN'S ELITE FIELD
Patrick Smyth from Salt Lake City, Utah enters Sunday's half-marathon as a clear-cut favorite to defend his world title and interestingly, his toughest competitor is likely to be a very familiar foe from Layton, Utah in the form of Brett Hales.
Hales won the XTERRA Trail Run National Championship in September in dominating fashion, and it was his first-ever trail run.
"It was phenomenal, I loved it.  I had no idea what to expect having never done a trail race. It was amazing.  A little wind, little rain, critters running everywhere, and there were so many people in the race but I felt like I was the only one out there.  It was so addicting," said Hales, 28, after Nationals.
Smyth can relate. Since focusing his running efforts on trail races last year Smyth quickly made a name for himself as one of the best trail runners in the U.S.   This year Smyth won the U.S. Trail Half-Marathon Championships in Bellingham, Washington and was the top American (10th overall) at the World Mountain Running Championships held in Italy in September.
Although Smyth and Hales are fairly new to the trail run scene, they know each other well having run against each other in high school more than a decade ago and winning is nothing new for either of them.  Hales, a former track and cross country stand-out at Weber State University, has won several half-marathons this season.
Smyth, who was a 7-time All-American across cross-country, indoor and outdoor track at Notre Dame, said XTERRA Trail Run Worlds "is the culmination of my 2014 season. I've been gearing all my recent training towards this race.  The course at Kualoa Ranch is amongst the most memorable, beautiful I've ever run on, and that played a big role in my decision to come back, but more than anything I want to repeat as World Champ!"
Other men gunning to steal the title from Smyth include his U.S. Mountain Running teammate David Roche, who won his second US 10k trail national championship in two years at Lauren, NC with a time of 42:42 this year.  Roche also won the XTERRA Earth Conservancy half-marathon in Mocanaqua, PA back in June.
"We are so excited to race Worlds to experience the beauty of the course firsthand," said David Roche, who will be honored alongside his wife Megan as the "Men's and Women's Sub-Ultra Trail Runners of the Year" at the USATF annual meeting on Thursday.  "We have heard incredible things about the trails, the views, and the area. Plus, XTERRA always puts on fun events, mixing a low-key vibe with stellar competition and challenging courses. Basically, Worlds represents just about everything that makes trail running awesome!"
Also of note is Olympian Roberto Mandje, who captured the XTERRA Beaver Creek half-marathon over the summer and was 5th at XTERRA Trail Run Worlds last year.
BEST OF THE U.S. WOMEN HEADED TO HAWAII
Allie McLaughlin (Colorado Springs, CO), Kimber Mattox (Bend, OR) and Megan Roche (Sunnyvale, CA) highlight the women's elite race.
McLaughlin, who won the World Mountain Running Association Long Distance Challenge in August and was the top American and bronze medalist at the World Mountain Running Championships in Italy in September, could be considered America's fastest trail runner right now…
"That I don't think I can say, but definitely work towards it every day!" said McLaughlin, who will be making her first appearance at XTERRA Trail Run Worlds.  "I mean there are so many trail races and so many different lengths. I am probably most competitive in the half marathon and under but there are a lot of women I haven't raced yet. I am definitely up for the challenge to be considered the fastest though!"
The recently turned 24-year-old showed signs of being great after posting a remarkable freshman year running for the University of Colorado cross country team back in 2009, but was subsequently plagued with injures for years.
"A sacrum, heel, and fibula stress fractures," she explains. "I definitely learned a lot those years though and could not have had better coaches to support me through such a devastating time. After forgoing my fifth year and taking a year off, I not only got a job outside of running in country radio which excites me in a whole other way, I also found my strength again back home in the springs and on the trails! I think I've finally made it through the rebound phase and can now move forward confidently and have never enjoyed running more! As painful as it was, I thank God for the broken road that led me here!"
She also said she was thankful for the opportunity to run in Hawaii, in a race she had long dreamed of competing at.
"To be honest, I remember seeing ads in running magazines about it when I was in high school and always thought in the back of my mind how awesome it would be to go,' said McLaughlin. "There never was an ideal time to do it during those seasons, however, and I don't think my parents would have seen it necessary. Now all of a sudden it just feels right to come and my parents are meeting there as well so it's going to be special no matter how the race goes."
McLaughlin and Roche were honored as the "Women's Mountain Runner of the Year" and the "Women's Sub-Ultra Trail Runner of the Year", respectively, at the USATF Mountain Ultra Trail Council Awards banquet today.
A pair of elite Canadian runners from British Columbia – Marilyn Arsenault and Melanie McQuaid – add some intrigue to the women's race.
McQuaid is no stranger to XTERRA or Kualoa Ranch.  As a professional triathlete she won XTERRA's triathlon world championship three-times; and well before XTERRA started hosting runs at Kualoa Ranch McQuaid was ripping up the trails on her mountain bike at the Hawaiian Mountain Tour in the valley.
This will be McQuaid's third attempt at the half-marathon.  She was 10th in her first try in 2009, and was fifth two years later in 2011. After her first run at the ranch she posted an insightful top 10 list about the race in her blog post titled "XTERRA Run World Champs 2009 – Where the Dinosaurs Roam" …
"When you decide to challenge yourself with the hardest half marathon ever, I will give you an idea of what to expect," posted McQuaid…
The longest 21km, ever.
Possibly the slowest 21km you will run, ever.
The longest switchbacking climbs in a run, ever.
The most long, switchbacking climbs in a row, ever.
Seriously incredible ocean views from the top of said climbs.
Steep freefalling descents in jungle surroundings.
Foot thick, incredibly slippery mud in spots.
The most heat and humidity you will ever experience in December (unless you are from Hawaii).
The coolest venue:  set for movies like Jurassic Park and the tv show Lost.
Some really fast people and some super chillaxed people but overall a super fun, relaxed vibe that XTERRA is known for.
Aresnault, who has won championship titles on all surfaces, might just feel right at home in the hills of Hawaii and to put her speed in perspective, consider that she has run faster than 2012 XTERRA Trail Run World Champion Lucy Smith this season.
"Marilyn is in great form and finished a minute ahead of me at Nationals last weekend and head to head, has been faster than me this year," said Smith, who just pulled from Sunday's race due to a bad cold.  "She is a solid competitor and massively talented, but hasn't run the worlds course. I am not sure of the pedigree of the two young mountain runners, but I think Marilyn's stamina and maturity will serve her well at Worlds."
Not to be overlooked is Kimber Mattox from Bend, Oregon who was 2nd at XTERRA Nationals in Utah this September, recently won the Warrior Dash World Championship, and won five All-America medals in her college career that included a ninth-place finish in the 3,000-meter steeplechase while running for the University of Oregon Ducks in 2012.
"After enjoying the XTERRA race in Utah, I was excited to try another," said Mattox. "I've heard great things about the trails in Hawaii, so thought this was a perfect opportunity to see them for myself."
Other contenders include XTERRA pro triathlete Kim Baugh, and Hawaii's-own Lauren Ho, who was seventh overall at last year's race.  One women's runner of particular interest is actually still just a girl, 11-year-old Kasuga Watabe from Japan.  Watabe has posted remarkable results this season, winning the women's title at eight trail races at distances ranging from 15-to-32 kilometers.
Of course with registration for the race still open, there's just no telling who might join this super-fast field.
The event, which traverses one of the most pristine stretches of Oahu's countryside on the northeast coast, boasts a $10,000 prize purse and is filmed for a feature segment in XTERRA's national syndicated television programming.
PAUL MITCHELL XTERRA TRAIL RUN WORLDS QUICK FACTS
When: Sunday, December 7, 2014 @ 9 a.m.
Where: Kaaawa Valley, Kualoa Ranch, Oahu, HI
What: 7th annual XTERRA Trail Run World Championship half-marathon, plus 5km and 10km trail runs, an adventure walk, and free kids runs.
Who: 2,000 runners from 20 countries and 40 U.S. States of all ages and skill levels from around the world.
Why: The last race in the 100-stop worldwide XTERRA Trail Run Series to determine the best-of-the-best.  Elite runners race for $10,000 in prize money, and each age division 15-19, 20-24, etc…crowns World Championship titles.
Registration: Sign-up in-person at the Waikiki Beach Walk from 9am-5pm on Sat, Dec. 6.  Call toll-free to 877-XTERRA-1 (877-983-7721) with questions.
Visuals:  The race will be filmed and edited into a segment for a 2015 XTERRA Adventures TV show that will be seen by millions of viewers across the country via national syndication starting in May and on the brand-new XTERRA.TV. TV Segment: http://vimeo.com/111797334
Website: www.xterrakualoa.com
Highlight Video: http://vimeo.com/channels/xterra/80307514Photos// Digital Guide by Hawaii Sport Magazine
FIT KIDS COMING TO KUALOA
Taylor Tamashiro, a special education teacher at Manana Elementary School in Pearl City, is one of the leaders and coaches of the school's Manana Fit Club.
In addition to promoting the healthy, active, outdoors lifestyle – the club also encourages participation in a community events – and this they decided to focus on the XTERRA Trail Run World Championship.
"It appeals to us because it is something different being a trail run and with the two events of the 5k and 1.5 mile walk, our students are free to participate in that event that they (we) feels best suits them," said Tamashiro.  "Most importantly, they're outdoor being active.  Plus, I'm from the windward side and I love that area, a lot of our kids don't get to that side of the island so it's a new experience for them as well."
Kids have been a big part of the XTERRA Trail experience through the years, and there is even free runs for the smaller kids and an obstacle/adventure area for them to play at.
"We see so many kids these days glued to their tablets and TV that it really is great to see groups and clubs like this that push them to be active and outdoors," said Dave Nicholas, XTERRA's managing director.  "It's a step in the right direction, for sure, and we're proud of Taylor and the kids at Manana for getting involved."
The Manana Fit Club – comprised of 3rd and 4th grade students – started a training program (twice a week) in mid-September that involves a combination of cardio, full body workouts, and team sports.
"Our students are stoked to be a part of this," said Tamashiro.  "Since we announced this, we coaches get asked every day about practice as well as "when is our run/walk?"  The students that we have running the 5k are excited to get out there and run!"
UNIVERSITY OF HAWAII STUDENTS TOO… 
With the Paul Mitchell XTERRA Trail Run World Championship right around the corner, students at the University of Hawaii are taking note.
Among others, Jessica Au and her friend Hannah Aldridge will be competing in the 21k world championship course.  Jessica, a graduate nursing student in the classroom and surf enthusiast outside of it, participated in last year's Trail Run Championship as well the Tinman Triathlon, Na Wahine O Ke Kai, the North Shore Swim Series, and a handful of marathons.
Her running, surfing, paddling, and study partner Hannah says that the two will have to motivate each other to push through the difficult and diverse terrain: "Jessica will be motivating me," said Hannah.  "She is going to do the Honolulu Marathon a week later and she is a beast. Jessica even did a half-marathon in the midst of her training for the Molokai Channel Na Wahine O Ke Kai!"
Hannah is also a graduate school student perusing a career in social work. She competed in a half marathon in New Zealand while studying abroad and has made a goal to complete a half marathon every year.
"I've been doing well on my training by keeping my mileage up, but I have not been doing any trail runs or super intense hilly runs, so I'm afraid I'll have a rude awakening!"
MORE RUNNERS OF INTEREST AT THE XTERRA TRAIL RUN WORLD CHAMPIONSHIP
Elizabeth Braun, 33, West Islip, New York
In early 2011, Elizabeth was diagnosed with a Patent Foramen Ovale (PFO). PFO is a small opening in the wall of the heart that separates the two upper chambers or atria. Elizabeth had a procedure to close it in May, 2011, and as a result is now able to compete in long distance running. Starting off slow, she started with 5K runs and proceeded to build up to running the New York City Marathon in 2013. This is Elizabeth's last race on her schedule this year and her first year racing XTERRA.
Bill Buonanni, 53, Merritt Island, Florida
Bill lived in Hawaii for four years and is now returning to race at Kualoa Ranch for his first time. Bill has been a high school Cross Country Head Coach at Merritt Island High School for the past four years. He will be running with family and celebrating his birthday on race day. Bill will look to make this day even more special with a respectable finish.
KC Carlberg, 51, Honolulu, Hawaii
KC, a local legend in the endurance sports community, is six years removed from her first XTERRA Championship after her recovery from Ovarian Cancer. KC enjoys helping people achieve their goals and currently is the owner of an all-women's training company called Try Fitness. She uses trail running to have fun, to challenge herself and to better her balance.
Kimber Mattox, 26, Eugene, Oregon
This is Kimber's first year racing XTERRA and she already has a second place finish at this year's XTERRA Trail Running Nationals. Kimber has already fell in love with trail running and says trail runs test a runner's mind and body but reward the spirit. She is motivated by her desire to challenge her body and seeing what she can accomplish. Kimber is a runner for a post collegiate running group in Eugene, Oregon, which is fittingly called Team Run Eugene. Kimber is also a coach for track and cross country at the University of Oregon.
Jo May, 66, Franklin, Pennsylvania
Jo will be returning to XTERRA Worlds for the fourth time in her running career, and what makes this year more special is that her husband and daughter will also be racing too. Jo has spent three weeks in the Alps to prepare for Worlds and cannot wait for this tough race. Jo is excited for the race but also cannot wait for a day of relaxation on Waikiki Beach.
Johan Nyberg, 35, Stockholm, Sweden
In May, Johan had the unfortunate accident of breaking his back. After five months of rehab, Johan was looking for a race in a warmer climate during this time of year than his hometown Sweden and came across the World Championship. He said he will race to challenge himself and to prove that he is healthy. He is ready for the stunning nature, the challenging course and to get back to competing.
Amy Bennett Eck, Kailua, Hawaii
Hawaii's own XTERRA guru Amy Bennett Eck from Camp Bennett and XTERRA Freedom Fest knows as much about Kualoa Ranch as anyone.  Every July 4th weekend she hosts an off-road racing weekend at the Ranch with an XTERRA World Championship triathlon qualifying race, trail runs, swim races and more.  She's also been helping local athletes be the best they can be with year-round training camps and clinics for years.  Amy is a certified USA Track and Field and USA Triathlon endurance coach, and in 2009 won the "Double" for having the fastest combined times at the Ironman and XTERRA World Championship races.
Finian Scott, 24, Auckland, New Zealand
Finian is currently working for the New Zealand Olympic Committee but uses trail running as an escape from office work and technology. He says trail running leaves him feeling like a big kid again because you have to jump around tree roots, wade through waist deep water and skid down muddy banks. Finian is excited to leave his country of New Zealand to race in Kualoa Ranch for the first time.
Sarah Seads, 38, Courtenay, Canada
Sarah is returning to Kualoa Ranch after racing for her first time last year. Last year, she ran with a team of six people that traveled from Canada. This year, she is looking to improve on her 6th place finish in her category. Sarah loves trail running because of the opportunity to spend time in nature. Nature also helps motivate her when she runs because of the peaks, views, Mother Nature and the big events.
Marty Smith, 56, Liberty, Utah
Marty won the female 55-59 National XTERRA National Trail Champion this year and is excited to compete with the best trail runners in the world at this year's Worlds. Marty has been racing with XTERRA for 8 years but this will be her first time racing at Kualoa Ranch. She has been preparing with her training group in the meantime and they are encouraging her to do her best.
FLORIAN FLOURISHING AT XTERRA
Hawaii's fastest XTERRA man this year is Sergio Florian.
He won the XTERRA Freedom Fest off-road triathlon (Hawaii's qualifier) and was the top Hawaii guy at the XTERRA World Championship in Maui, placing 13th in the highly competitive 35-39 division.  Florian also won the Lanikai, North Shore, and Firecracker road triathlons this year.
Florian, 35, was born in Argentina, moved to Southern California at the age of 12 and has been living in Kaaawa since 2007. He got his doctorate in physical therapy from Loma Linda University and is the owner/ operator of Wellness Physical Therapy, a private pay, mobile PT service specializing in spinal cord and brain injuries.
He's been racing XTERRA for four years now, and does it "because I love pushing myself, being out on the trails and enjoying nature."
Sergio first learned about XTERRA through a friend who convinced him to do the XTERRA MountainMan Triathlon, and fell in love with the sport after that.
He says his favorite XTERRA race is Freedom Fest because "the event organizers are super cool and they really put their heart and soul into the event. Also, it's held right in my backyard, in one of the most beautiful places in the world."
This year, for the first time, Florian worked with a coach and was able to take his training and racing to a new level.
"I mostly train solo, except for swimming, as I have a great group of swimmers that push me (Michelle Simmons and Team BSC). Also, The Bike Shop Hawaii has taken me in as part of their family and really helped me out a lot," said Florian.
He says his role model is Conrad "the Caveman" Stoltz from South Africa.
"I started researching a little about how he lives and trains, and I was blown away. What impressed me is how disciplined he is and how smart he is about his training. He's older now, but still doing well because he trains smart and lives a healthy lifestyle.
Florian also lives a healthy lifestyle, and moreover, helpsothers to do the same as part of his physical therapy business.
"My main motto—and I share this with my clients looking to reach their personal goals—is to never let anyone dictate what your limits are," said Florian.  "Never give up, and always set high goals for yourself. I have clients who have been told that they will never be able to do what they love again. I love to help them prove everybody wrong. And the same goes for my training and racing. Never give up, even when your own mind is telling you no."
Despite being an XTERRA athlete and loving to swim, bike and run, when the waves are good Sergio's favorite thing to do is surf, and "I'm fortunate enough to have warm water and waves year round," he said.
Despite his busy schedule Sergio says his family is the foundation of his life.
"I couldn't do any of these activities that I enjoy without the love and support of my family. I have a 2-year-old son, and spending time with him is a priority. Spending time with my family is the most important thing in my life. My wife and mother-in-law are both very supportive of my racing and have played a huge role in my success," he said.
Florian's positive outlook and great conditioning also put him in the right place at the right time for one family this summer.  Here he tells the story on how he helped a Mom and her boy survive a rough outing in the ocean
"So I won a triathlon today…," started Florian's post on Facebook on April 13… "But what happened after is the only thing on my mind. And I think it will stay with me forever. After the race a group of us decided to swim to the mokes. We made it out there and had a blast. As we're about to head back, myself and another swimmer spot a kayak flipped over and in distress just off the island. We swim out and attempt to help. We tried to get them back on the kayaks but the wind and the surf kept flipping us over. As we drifted in to the impact zone we got separated and our kayak was smashed by a 10 foot wave. So here I am holding a 7 year old boy in my arms as we take wave after wave on the head. Panic is setting in at this point. I thought of my son at that moment. I held that boy close and wasn't going to let go. After getting pounded and hitting the reef a bunch of times we got to the deeper area with no waves. I spot the boys mom and got to her in time. She couldn't swim anymore. I then breast stroked with them on my back to shore. Took a while but luckily everyone was saved. The other swimmer in our group helped the other kayak get to shore with two other people. The fire department rescued two other people who managed to make it to the island. Crazy day!!"
As further insight into the character of Florian, this week he opened his home to a couple of elite runners from California taking part in this Sunday's XTERRA Trail Run World Championship.
"My coach said they were looking for a place and got us in touch. I have an empty guest room available so I offered it to them. I don't mind helping out other athletes. They sound like cool people. And I'm literally 2 miles from the ranch."
Florian will also run at the ranch on Sunday, and is looking to make it a 3-for-3 as the fastest XTERRA guy in Hawaii.  He's already established himself as one of the coolest.
About TEAM Unlimited/XTERRA
TEAM Unlimited is a Hawaii-based television events and marketing company, founded in 1988.  It owns and produces XTERRA and in 2014 offered more than 300 XTERRA off-road triathlon and trail running races in 25+ countries worldwide.  In the U.S. alone nearly 200,000 participants took part in the XTERRA lifestyle last year.  In addition, TEAM TV has produced more than 300 adventure television shows resulting in three Emmy's and 42 Telly Awards for production excellence since 1990.  View samples at www.xterra.tv, and learn more at xterraplanet.com and xterratrailrun.com