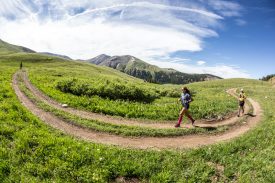 Event adds 15.5-mile run and bike, kids duathlon and changes up 50 courses due to excess snow
LEADVILLE, July 5, 2019 — Silver Rush 50, part of the Leadville Race Series owned and produced by Life Time, will bring more than 1,000 participants to the Leadville, Colorado area this weekend, many with family in-tow, as the event broadens its offering to newcomers and youth with a 15.5-mile run and bike as well as a Kids Duathlon. The family-friendly, Silver Rush endurance weekend will culminate on Sunday with music and brew at a post-race festival. Registration for the Kids Duathlon and MTB events is still open at leadvilleraceseries.com.
The 15.5-mile run and Kids Duathlon, comprised of a 2.5-mile run and 2.5-mile bike, will take place on Saturday, July 6 which will also play host to the company's annual Silver Rush 50 Tail Run. The 15.5-mile bike and the Silver Rush 50 Mountain Bike, presented by Stages Cycling, is set for Sunday, July 7. Both courses are changed this year, due to the excessive snow build-up and washing out that has caused other races in the area to cancel. The new course is available online: https://www.mapmyride.com/routes/view/2577907516.
"The Leadville Race Series is known to have some of the toughest race courses in the world due to the altitude and Rocky Mountain terrain, naturally drawing the toughest athletes around," said Michelle Duffy, Senior Brand Manager at Life Time. "Adding the 15.5 miler and Kids Duathlon to our Silver Rush 50 event weekend lineup helps create a true family-friendly atmosphere and engage newcomers and kids into the great sports of trail running and mountain biking."
The new 15.5-mile course features dominantly single track terrain and begins and ends at the same points as the Silver Rush 50. The new, shorter course is geared toward entry-level participants, though registration is open to runners of all experience levels. The Kids Duathlon consists of a 2.5 mile lap course in which participants will bike and run one lap each for a total length of five miles.
Altitude plays a key role as both a challenge and attraction for participants wishing to test their endurance by running 50 miles of rugged terrain while gradually ascending from 10,200 to 12,000 feet of elevation. For mountain bikers, the Silver Rush 50 MTB course includes technical climbs and descents at almost 8,000 feet of elevation. Both events offer world class mountain views overlooking Leadville, Colo.
One race not enough? Some endurance athletes will test their grit with two days of exhilarating challenges. Spending Saturday running the Silver Rush 50 Run, and following it up on Sunday with the Stages Cycling Silver Rush 50 MTB. Finish both and they'll earn respect from everyone. Finish both events within the allotted time and they'll forever be known as a Silver King or Silver Queen.
The Silver Rush 50 events are precursors to the pinnacle Leadville Trail 100 Mountain Bike and Trail Run, slated to take place Aug. 10 and 17, respectively. Racers can earn a coin into the LT100s by completing the 50-mile distance.
The Silver Rush 50 was established in 2002 as part of the storied Leadville Race Series which is owned and produced by Life Time, the premier healthy lifestyle brand. It is among more than 30 premier athletic events owned by the company, including the Miami Marathon, the New York City Triathlon, the Chicago Triathlon, and the Dirty Kanza. Life Time strives to produce exceptional event experiences for both participants and spectators as an extension of its Healthy Way of Life philosophy.
About the Leadville Race Series
Started with only 45 runners as the Leadville Trail 100 in 1983, the Leadville Race Series now consists of seven running events and four mountain biking events, plus six events in the Leadville Qualifying Series. The Race Series stretches across three months, and hosts thousands of racers on foot and on mountain bike in some of the world's most iconic events. Endurance athletes worldwide now make the pilgrimage to Leadville, Colo., with the single goal of competing in "The Race Across the Sky." Visit www.leadvilleraceseries.com for more information.
About Life Time® – Healthy Way of Life
Life Time champions a healthy and happy life for its members across 143 destinations in 39 major markets in the U.S. and Canada. As the nation's only Healthy Way of Life brand, Life Time delivers an unmatched athletic resort experience and provides a comprehensive healthy living, healthy aging and healthy entertainment experience that goes well beyond fitness to encompass the entire spectrum of daily life for individuals, couples and families of all ages.For more information visit www.lifetime.life.
# # #