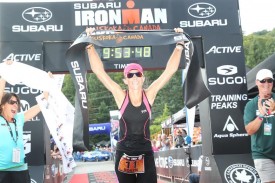 Nearly 1,300 Athletes Converged in Huntsville for Inaugural Subaru IRONMAN Muskoka Triathlon
MUSKOKA, Ontario (August 30, 2015) – Muskoka provided a beautiful backdrop for athletes from around the world at the inaugural Subaru IRONMAN® Muskoka triathlon. Jonathan McMillan (M25-29) from Orillia, Ontario and Robyn Hardage (F30-34) from Ottawa, Ontario took the top honors with finishing times of 9:19:28 and 9:53:37, respectively.
Nearly 1,300 athletes representing 21 countries and 37 states started the 2015 Subaru IRONMAN® Muskoka triathlon, which consisted of a 2.4-mile swim, 112-mile bike and 26.2-mile run in the scenic surroundings provided by the city of Huntsville. Competitors ranged in age from 18 to 75.
One of more than 40 events in the global IRONMAN® Series, the single-loop swim took place in the clean, crisp waters of Peninsula Lake, while the two-loop bike course led athletes along challenging but scenic routes and through three small and charming Muskoka communities. Athletes then enjoyed a two-loop run course winding past Fairy Lake and through historic downtown Huntsville before returning back to Deerhurst Resort for a spectacular finish. The event offered 50 coveted age-group qualifying slots to the 2016 IRONMAN World Championship, taking place on Oct. 8 in Kailua-Kona, Hawai`i.
Full results for the Subaru IRONMAN Muskoka triathlon can be found at www.ironman.com/triathlon/events/americas/ironman/muskoka/results.aspx.
Visit www.ironman.com/muskoka for event information. Media inquiries should be directed to press@ironman.com.
###
About IRONMAN
The iconic IRONMAN® Series of events is the largest participation sports platform in the world. Since the inception of the IRONMAN® brand in 1978, athletes have proven that ANYTHING IS POSSIBLE® by crossing finish lines at the world's most challenging endurance races. Recognized for excellence through distinguished events, world-class athletes and quality products, IRONMAN has grown from a single race to a global sensation with more than 190 events across five unique brands: IRONMAN®, IRONMAN 70.3®, 5150™ Triathlon Series, Iron Girl® and IRONKIDS®. For more information, visit www.ironman.com.
IRONMAN®
2701 North Rocky Point Dr | Suite 1250
Tampa, FL 33607
(P) 813.868.5940 | (F) 813.868.5930