Inaugural GFNY Polska set make its mark on sporting calendar in Gdynia
May 24, 2018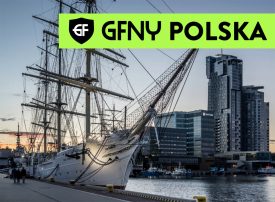 700 riders ready to tackle inaugural GFNY Polska-Gdynia this Sunday, May 27
NEW YORK CITY, May 24, 2018 – Straight off the successful 8th annual GFNY NYC World Championship, GFNY Global Cycling Marathon Series heads to the City of Sea and Dreams in Gdynia, Poland.
The first qualifying race for the 2019 GFNY NYC World Championship, GFNY Polska-Gdynia will be held on fully closed to traffic roads.
The race will start and finish at the popular main tourist spot, Kosciuszko Square and take riders through the picturesque and hilly Kashubia region. The long route will cover 135km with 1534 meters of climbing and serves as a qualifying race for the Racer Corral Qualification at the 2019 Campagnolo GFNY World Championship in NYC. The medium route covers 80km and 831 meters of climbing.
For the first time ever, GFNY Polska will have pro cyclists from Polkowice team to act as pacemakers to help amateur riders to the finish line in their goal time. Popular at running events, a pacemaker has never been used before in a cycling event.
"We would like to copy this concept on a cycling event," says Michal Drelich, Race Director & CEO at Sport Evolution. "We have planned pacemakers for groups aiming to ride with an average speed of 20, 25 and 30 km/h," he adds.
The pacemakers will be easy to recognize along the route in their orange jerseys, as all participants will be wearing the official GFNY Gdynia race jerseys.
After the race, riders will be able to relax and enjoy post race refreshments and celebrations in Kosciuszko Square.
About GFNY
GFNY is the global cycling marathon brand with events held in NYC, Bali-Indonesia, Brazil, Chile, Colombia, Costa Rica, Germany, República Dominicana, Samosir-Indonesia, Jerusalem-Israel, Cozumel-Mexico, Monterrey-Mexico, Panama, Philippines, Poland, Portugal and Uruguay.
Riders get to BE A PRO FOR A DAY by competing against others, themselves and the clock in a personal endurance challenge.
At all GFNY events, riders have the chance to qualify for the elite racer corral at the GFNY World Championship in NYC by placing in the top 10% (20% at regional championships) of their age group.
Campagnolo GFNY World Championship NYC
The 9th annual Campagnolo GFNY World Championship New York will be held on May 19, 2019. The race features the world's most international peloton with riders from over 90 countries. Athletes take on a challenging 100-mile route from NYC to Bear Mountain to Fort Lee to compete against each other, the clock and themselves in a personal endurance challenge.
The official GFNY website is: www.gfny.com.
GFNY World 2018 calendar
27 May GFNY POLSKA-GDYNIA
5 August GFNY BRASIL
2 September GFNY EUROPE CHAMPIONSHIP DEUTSCHLAND 
2 September GFNY ASIA CHAMPIONSHIP INDONESIA-SAMOSIR
9 September GFNY PORTUGAL
21 October GFNY PANAMA
11 November GFNY COZUMEL-MEXICO 
25 November GFNY CHILE
GFNY World 2019 calendar
20 January GFNY PHILIPPINES
25 February GFNY BALI
17 March GFNY MONTERREY
17 March GFNY URUGUAY
24 March GFNY LATIN AMERICA CHAMPIONSHIP COLOMBIA
7 April GFNY REPUBLICA DOMINICANA
3 May GFNY MIDDLE EAST – AFRICA CHAMPIONSHIP JERUSALEM
19 May GFNY WORLD CHAMPIONSHIP NYC
7 July GFNY COSTA RICA
Further Material for Media Use
GFNY World calendar graphic: here
GFNY Polska-Gdynia video: here
GFNY Image database: here
Previous GFNY press releases: here
GFNY photo archive (credit SPORTOGRAF): here
Media Contact
Gran Fondo New York Inc.
Uli Fluhme
Phone: +1.212.933.4033
Email address: uli@gfny.com