Honolulu Marathon and Pacific Sport Events & Timing switch to race|result timing technology
July 24, 2019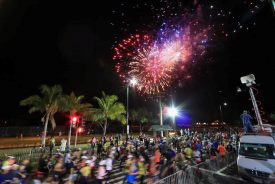 Sportstats, the largest timing company in the world, has announced its acquisition of Pacific Sport Events & Timing and its commitment to bringing race|result timing technology to Pacific Sport Events races, including Honolulu Marathon.
Andre Yelle and Lindsay Burns of Sportstats West, the new majority shareholders of Pacific Sport Events & Timing, share their excitement and what the change means for this year's race in Honolulu: "We're excited to bring race|result to Honolulu Marathon. The move to folding mats will simplify race day logistics and make execution of the timing plan much smoother. This is our fifth year with race|result technology at Sportstats West and we couldn't be happier with the hardware. One of the biggest benefits we find with race|result is how fast the systems and timing mats can be deployed on race morning, even for a 16m wide starting line like we have at Honolulu Marathon. It gives us much more flexibility with tight road closures. The read rates are unmatched and significantly better than any other system we have previously owned. With the new UHF transponder that race|result released last year, the read rates have further improved and it's great to see this continuous innovation and development."
With over 30,000 runners, the Honolulu Marathon is the fourth largest marathon in the United States. It takes place on December 8ththis year and kicks off the day before with the Kalakaua Merrie Mile, which includes a gender challenge for the elites. Sunday's distances include the Start to Park 10k and the Marathon. The Honolulu Marathon is a popular destination for a fast elite field, as well as an international crowd enjoying the run through paradise, with no course cut-off or time limits on finishing the marathon. The team from Pacific Sport Events & Timing will be using 29 race|result systems on course and streaming live results data through rtrt.me, until the very last finisher crosses the line.
CEO of race|result, Soenke Petersen says, "We're very excited to continue our partnership with Sportstats and welcome the team from Pacific Sport Events & Timing and the Honolulu Marathon to the race|result family. The feedback we get from timers like Andre and Lindsay is essential in the continuous development of new products and improvement of services we offer for both timekeepers and races."
About Pacific Sport Events & Timing and Sportstats
Pacific Sport Events & Timing supports sporting events with state-of-the-art finish line systems and custom event services for triathlons, running, cycling, swimming, surfski, outrigger canoes and paddle board events.
Sportstats is the largest sports timing company in the world, with over 1000 events per year. Sportstats has 8 offices globally. For more information, visit www.pseresults.com and www.sportstats.ca.
About race|result
race|result is a technology leader in the market of sports timekeeping technology. With headquarters in Germany and seven distributors around the globe, including a US office in Boulder, Colorado, race|result offers a complete timing package – from race numbers and event supplies, to timing transponders and systems using active or passive timing technology, all the way to timing and scoring software. For more information, visit www.raceresult.com.
About Honolulu Marathon
The Honolulu Marathon is a major 26.2-mile marathon in Honolulu, Hawaii. It is one of the world's largest marathons, taking place annually on the second Sunday in December. The marathon is popular for its exotic location in Hawaii, and is also popular among first-time marathoners, many of whom are visitors from Japan. For more information, visit www.honolulumarathon.org