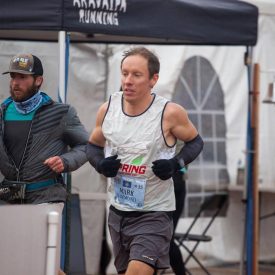 (Logan, UT – January 16, 2019) Altra Elite Mark Hammond won the 24-Hour race at Aravaipa Running's Across the Years event by completing 131 miles in 24 hours.
"I ran a flat one mile loop for 24 hours at the Across the Years race near Phoenix," Hammond said. "Someone aptly described it as 'a special kind of hell' which is especially difficult for runners like me who are accustomed to the variety and scenery of mountain trails."
Across the Years is a fixed-time multi-day running event in Phoenix where runners choose 24, 48, 72 hours or 6 days to cover as much distance as possible. The event started on December 28, 2018 and finished on January 3, 2019, with all participants stopping at midnight on the 31st to ring in the New Year together. Runners are free to walk, stop, eat and sleep whenever they'd like but the clock is always running.
"I'm used to running mostly alone in ultras so it was interesting to observe everyone in the race so frequently," Hammond said. "Although the terrain and scenery never change, the runners around you sure do. Along with the 24-hour runners, there were runners in the 48 hour, 72 hour, and 6 day races on the course at the same time. Lots of drama to behold."
Hammond ran in the Altra Duo, a race-ready shoe featuring maximum cushioning with minimal weight.
Stay updated on Mark Hammond's wins along with all of Altra's athletes on its Elite and Red Teams by following the Team Altra Facebook page.
About Altra
While working at a running store, Altra founder Golden Harper was frustrated that modern running shoe technology caused poor running form and had not decreased running injuries. His passion to create a shoe that followed the science produced Altra's FootShape™ toe box, Zero Drop™ platform and Fit4Her™ female-specific shoes. Since its founding in 2011, Harper and co-founder Brian Beckstead have grown Altra from one to 30 shoe styles, winning multiple Editor's Choice awards and distribution in more than 60 countries. Join the conversation @AltraRunning and #ZeroLimits on Twitter, Instagram and Facebook.
Media Contact: Colleen Logan, VP Marketing, clogan@iconfitness.com