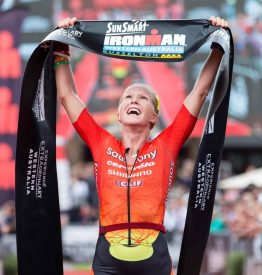 March 15, 2017 (Bend, OR) – Zealios, a leader in performance body care products for endurance athletes, announces professional triathlete Sarah Piampiano, as their newest addition to the team.
Sarah, aka The Ginja Ninja, is one of the premier triathletes competing in the pro women's field. Coming off of a successful 2016 season with five podium finishes, including 1st place at IRONMAN New Orleans 70.3, Racine 70.3 and Vineman, Sarah came away with an impressive 7th place finish at the IRONMAN World Championships in Kona. Sarah is looking forward to building on last year's strong season and is kicking off 2017 in partnership with team Zealios.
Sarah rises to any challenge, which oddly enough was how she started in triathlon years ago, in response to a dare from a friend. In training for her first triathlon, she was able to kick her bad habits, exchange them for good ones, and has never looked back.  Outside of her pro career, Sarah helped start, and is the main inspiration behind The Habit Project, an organization focused on promoting healthy & positive habits in life.
"I spend so much of my day outside in the sun, so having proper sun protection is paramount for me and Zealios sun barrier has been AMAZING to use," says Piampiano. "As a redhead, I have fair skin and my risk of skin cancer is higher, so I'm acutely aware of the quality of the sunscreen I am using. BUT aside from that, all of the Zealios products have wowed me  – it has been pretty exciting for me to find products that work as well as I'd like. I'm very excited to be part of the team."
"Having an elite athlete of Sarah's caliber join the team is something that we are very excited about" says Kevin Fuller, co-founder of Zealios. "Not only does she work extremely hard to be one of the top triathletes year in and year out, but her inspiring work with The Habit Project is something that sets a great example for everybody."
Sarah is the first athlete Zealios has announced for the 2017 season. She has a busy race schedule, including an overseas trip to the Ironman Asia Pacific Championships, with the ultimate goal of building up to the World Championships in Kona.
"Sarah is such a great fit for Zealios and what we are hoping to achieve as a company. She has a zeal for life, is serious… but not too serious and has a hard-working, never say die attitude," says Fuller. "Plus, I am stoked to finally have another ginger on board, us gingers have to look after each other when it comes to sunscreen."
About Zealios
Zealios offers a full line of body care products formulated for endurance athletes. From their high performance Sun Barrier SPF 45, to their swim & sport shampoo, conditioner and body wash, they focus on providing products that hold up to the challenges these athlete face — from training day, to race day. Using only safe ingredients, their products are gentle enough for everyday use and will protect, cleanse and revitalize your body.
Zealios, body care that goes the distance.
For more information, visit ZEALIOS online: www.teamzealios.com
Follow us on Facebook:  www.facebookd.com/zealiosskincare
Follow us on Instagram: www.instagram.com/zealiosskincare
Follow us on Twitter: www.twitter.com/zealiosskincare
Contact us at: info@teamzealios.com
Follow Sarah Piampiano:
www.twitter.com/sarahpiampiano
www.instagram.com/spiampiano
www.facebook.com/officialsarahpiampiano