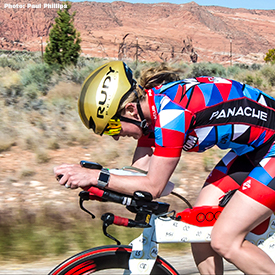 The new mother was voted
Denver CO – Rudy Project, makers of Italian performance eyewear and record-setting helmets, are proud to support Meredith Kessler, who was just voted the Greatest American Triathlete of All time according to IRONMAN©'s "Best of" poll. The new mom and race favorite was a shoo-in to win – her many accolades on and off the race course make her a worthy favorite with 11 IRONMAN and 21 half-iron (70.3) distance titles to her name. She's also the author of a series of manuals called "Life of a Triathlete," a mentor to many aspiring triathletes, and a new mother. Within 5 months of giving birth to her son, she took 6th at the North American Championship race, IRONMAN Texas, with an impressive sub-9 hour finish, after just 6 weeks of run training. She then turned right back around a week later to take 5th in the US Pro Championship at IRONMAN 70.3 St. George.
"Meredith is obviously a very special athlete, but – more importantly – she is one of the kindest people I've ever met," said Chris Lupo, Director of Sports Marketing for Rudy Project North America. "She is a cherished member of the Rudy Project family and we couldn't be prouder to be a part of her tribe."
Meredith got her start in triathlon shortly after her graduation from Syracuse University, where she played field hockey and did track on a Division 1 athletic scholarship. She's competed in over 60 IRONMAN full distance races all over the world, revisiting the same races over and over, and has a reputation for becoming beloved wherever she races. She's won five consecutive titles at IRONMAN
New Zealand and as a result earned the nickname "Queen of Taupo." Her four wins at IRONMAN 70.3 St. George have made her an honorary local. Her strength as a triathlete is that she has no weakness – she has a reputation for being first out of the water, zipping on the bike, and setting a punishing pace on the run. Her consistency in all three disciplines is matched only by her fierce dedication to her support group and family, the initials of whom she has painted onto her custom Ventum race bike. Up one fork of her bike is the word "Gumption," a mantra she reaches for when she needs to dig deep.
Upon hearing she had been voted the Greatest Triathlete of All Time, Meredith was overflowing with positivity and grace, saying "The gratitude that I have to have so kindly been voted this title is paramount. I am taken aback by the outpouring of kindness, support and genuine care from so many and appreciate it all so very much. A main goal going forward will be to try to deliver in my job and passion as a professional triathlete and represent the USA with gusto and fortitude in every race that I can muster."
In IRONMAN 70.3 Chattanooga this past weekend, Meredith took 2nd against a stacked field, getting outpaced only by fellow Rudy Project triathlete Heather Jackson, who took the tape with at 1:12 margin of victory. Jackson made her move with three miles left to go in the run, with Meredith racing to keep up against the Bend, Oregon native, who also came in second in IRONMAN's "Best of" poll. The two wore matching Tralyx racing frames in Gold Velvet, the bright lenses matched only by their ear to ear grins.
Photo: Wattie Ink
"I'm trying to race my way back into shape," Meredith said after the race, displaying the support and positivity that makes her beloved in the sport. "I'm glad phenomenal athletes like Heather Jackson are here to whip me back into shape."
We look forward to supporting Meredith as she continues to warm the hearts of triathlon fans and dominate podiums everywhere in 2018. Her next race is IRONMAN Raleigh 70.3 on June 3rd, where she will once again face off against Heather Jackson for the top step of the podium.
About Rudy Project
Italian Crafted Sunglasses, Helmets, Goggles, + Rx/Prescription Eyewear Since 1985 • 7-Time #1 Most-Worn Aero / TT Helmet at IRONMAN® World Championships • Unbeatable Replacement Lens Guarantee • www.rudyprojectna.com
Media Contacts:
Simone Cordery-Cotter – simone@gorace.pro 949-272-2476