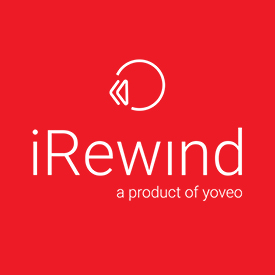 Acquisition establishes global leader in personalized mass video production technology
(Zurich & Lausanne, 15 March 2017) yoveo AG, the leading Swiss specialist in video strategies and technologies, today announced the acquisition of Lausanne Startup iRewind. Active in 23 countries, iRewind is a software solution that automatically captures, edits and delivers instantly personalized videos to participants in sport events. To date, it has provided the solution to more than 300 events across the globe with over 1 million videos delivered.
The acquisition of iRewind by YOVEO will allow the company to consolidate and further develop a wide range of services in the rapidly growing field of video micro moments, particularly for sport events. These goals will be achieved by combining iRewind's advanced video automation software with YOVEO's pool of technologies and competences. According to Marco Demont, co-Founder of YOVEO, a new global leader for smart personalized mass video production technology has been established: "iRewind is a pioneer in the market for video micro moments and has succeeded in building up an impressive reach within a short time." Andreas Herren, co-Founder of YOVEO and responsible for product development adds: "Because of the experience of iRewind in the area of video automation, we can add innovative features for our partners and accelerate the process of offering customized and smart video solutions to our customers, such as sponsors and timers, for use at events."
The iRewind tech department lead by Mihai Nicolescu, CTO and Co-Founder, will continue to operate out of Bucharest and, together with the Zurich based tech center, will further develop the iRewind product in many areas, such as highly scalable video bulk processing, automation and computer vision.
"We are incredibly grateful for the passion and dedication of the entire iRewind team", says iRewind Co-Founder and CEO Bogdan Manoiu. "We founded iRewind with the core belief that the video memories we deliver mean future happiness to share. YOVEO has a portfolio of great video products and innovative technologies under development and by combining these with iRewind's capabilities, we will provide sports participants as well as sponsors, organizers and timing companies with exceptional value."
For further information please contact:
Marco Demont, Co-Founder yoveo AG
marco.demont@yoveo.ch
Mobile: +41 79 623 90 21
Web: www.yoveo.com / www.irewind.com
About YOVEO
yoveo AG is a Zurich based company that specializes in video strategies and technologies. Benefitting from more than 40 years of experience in the various fields of the video industry, YOVEO is developing and providing high-end and customized video solutions for global brands.
About iRewind
iRewind is founded on the belief that today's memories are future happiness to share. The technology matches camera meta-data with user positioning information to identify participants and make them the stars of their own personalized video memories.