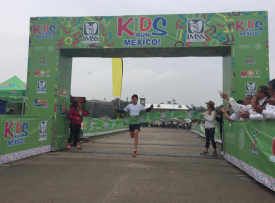 [Orange County, CA.] – The OC Marathon Foundation's KIDS RUN experienced tremendous growth in 2016, including the addition of an international partnership in Mexico. On April 30, over 8,000 children completed the final mile of their own "marathon" at the KIDS RUN the OC (KROC) presented by Nutrilite during the weekend of the U.S. Bank OC Marathon at the OC Fair and Event Center in Costa Mesa, CA. Over the next few weeks, KIDS RUN Mexico had another 5,000 finishers in their inaugural year completing their "final mile" events in all 32 states in Mexico.
The KIDS RUN program was developed by the OC Marathon Foundation and is designed to help pre-adolescent kids become more physically fit, promote an active and healthy lifestyle and combat the onset of childhood obesity, all while having fun. Students are led through the training programs which include various games and activities at participating schools led by teachers and parents that have become certified KIDS RUN coaches. Upon completion of the 10-12 week program at the schools, each student accumulates the equivalent of 25.2 miles of activity and is ready to finish their own "marathon" by completing their final mile at an organized official event.
In 2016, the KIDS RUN the OC program saw a 33% growth over 2015 with 8,400 registered children, 200 trained coaches and 112 schools and agencies in Orange County, CA. Started in 2004 with just a couple hundred kids as part of the inaugural OC Marathon, the KROC program and final mile event has had over 38,000 children participate.
In 2015, Sports Promotion, a Mexico City event agency dedicated to implementing strategies, activations, promotions and commercial events for national and international prestigious brands, partnered with the Mexican Social Security (IMSS) and the National Commission of Physical Culture and Sports (CONADE) licensing KIDS RUN from the OC Marathon Foundation to create KIDS RUN Mexico. In 2016, their inaugural year, the program had 5,000 children from 32 states in Mexico with a goal of reducing obesity rates throughout the nation. Kids Run Mexico final mile events were held throughout the country culminating at the "Hipodromo de las Americas" in Mexico City on June 11, 2016.
With a goal of Inspiring Kids to Fitness, the OC Marathon Foundation KIDS RUN program provides a model that can be readily adapted within existing or new events throughout the United States and internationally.
For more information about how to get involved with the KIDS RUN programs, contact the OC Marathon Foundation via info@kidsruntheoc.org and at www.kidsrun.com.