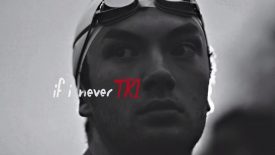 On the heels of Life Time Tri's Chicago Triathlon becoming the largest race in the world, Life Time Tri debuts national television advertisement to help grow sport
LOUISVILLE, Colo., November 8, 2017 – Committed to growing the sport of triathlon, the Life Time TriSM Series, produced by Life Time®, Healthy Way of Life, is launching #IfINeverTri, a campaign dedicated to helping hopeful triathletes looking for the information, resources and motivation about how to enter and complete their first triathlon. To kick off the campaign, Life Time Tri will be airing its first national television spot on November 8 during the Quest for Kona, a television series airing on NBC Sports showcasing the determination and dedication of athletes and everyday people to cross the finish line of the renowned IRONMAN® World Championship.
"Triathlon is a big part of who we are – as a staff of passionate athletes, as a company and as a national brand – and we are absolutely committed to helping people on the fence about giving triathlon a try have a successful, positive experience," says Scott "Hootie" Hutmacher, Brand Manager of Life Time Tri. The brand has rebuilt the Life Time Tri Series to give competitors and aspiring amateurs access to the best short-course triathlons in the country. Hutmacher says many of these initiatives have proven so successful, to the extent that the Transamerica Chicago Triathlon has grown by 1,700 participants since 2015, leading to a total sell-out in 2017 and reestablishing Chicago as the world's largest triathlon. He says, "We're standing by our commitment to make triathlon accessible and taking that message, as well as our races, national and mainstream."
The #IfINeverTri campaign will continue through 2018 across traditional and social media, and onsite at Life Time Tri events. In a bid to inspire newcomers to jump into the sport, the new campaign will rally triathletes to share motivating stories about the experiences they might have missed, had they never 'Tri'd.' The full-length #IfINeverTri television commercial can be viewed at IfINeverTri.com and LifeTimeTri.com.
Ten Free Race Bibs
To help kick off the campaign, Life Time Tri is launching sweepstakes for a chance to win one of ten entries to any Life Time Tri race for anyone who shares their #IfINeverTri story. Entering is simple. Just log on to your Twitter or Instagram account(s), and submit a photo or video and short explanation of what you would miss the most had you never participated in triathlon. Submission is complete when the photo, video and narrative is uploaded and includes: tagging @LifeTimeTri, hashtag #IfINeverTri and hashtag #Sweepstakes. The content of anyone's response will not be judged and therefore will not increase or decrease your chances of winning a prize. Sweepstakes is open and runs through Friday, November 24. Full sweepstakes rules can be found at at IfINeverTri.com and LifeTimeTri.com. Anyone can do it, just like a tri. In fact, check out this video from four-time IRONMAN World Champion Chrissie Wellington here.
From Airtime to Race Day
As part of Life Time Tri's dedication to making triathlon more approachable for first-time athletes, as well as motivating and inspiring for competitive athletes with a better race-day experience, the company introduced a number of initiatives that are already showing a positive impact on the sport. Included in that list of racer-friendly improvements are:
A Simpler Experience:
No Hidden Fees: Finally, all-inclusive race registration pricing, which includes insurance and race registration fees – and no requirement for a USA Triathlon membership.
Coach Support: Expert coaches provide free, online training programs upon registration, as well as face-to-face race insights at every event.
New Officiating: No more surprises. Life Time Tri will utilize IRONMAN® and ITU rules assessment, including implementing penalty tents.
First-Timer Accessibility:
Education and Training Programs: Free educational programs in every race market, from Tri101 webinars to first-timer programs (select markets), plus free to fee-based physical training programs in each market, from training guides, to open water swim clinics, to one-on-one coaching.
Scholarships:  Life Time Tri will donate 10 slots at every 2018 Life Time Tri Series race through an opt-in scholarship program to make triathlon accessible for those that may not be able to afford it. Individuals may elect to nominate others, or themselves, by submitting a short, "why triathlon matters to me," essay.
Beginner-Friendly Experiences: First timers may elect to start together, in non-competitive waves. Special bib identifiers will help drum-up support from crowds and race volunteers.
More Indoor Tris: The ultimate, intimidation-free way to get a taste of tri. To date, 45 Life Time destinations will host an Indoor Tri on Sunday, January 21, with more to come.
More Convenience:
Choose Your Start: Athletes will be able to select their own race experience, choosing from their own start time, competitive nature or even alongside friends and family.
Flexible Packet Pick Up: Select events will allow athletes to pick up their packets on race morning. Additional fees apply.
Transition Access: Select events will allow for flexible transition access, meaning more sleep for those racing later (or an earlier afternoon nap).
More Excitement:
Real-Time Finish Recognition: New technology, powered by AthlinksSM, will recognize those who set a PR, or who finish their first triathlon – right there in the finish chute!
Experimental Race Formats: Select events will offer unique, limited iterations of the classic swim-bike-run formats, including Chicago's Triple Challenge and Mixed Relays in multiple markets.
A New Series Championship: Creation of the first ever, short course championship series, the 2018 Life Time Tri Championship at the 2XU New York City Triathlon. As a part of the series, there is a prize purse of more than $50,000 in cash and prizes, and concierge services such as complimentary bike shipping to the first 50 registered qualifiers in each market.
"Our goal is to make triathlon better," says Hutmacher. "To do that, we need to make it as inviting as possible to newcomers, motivating for veterans, and the most memorable race day experience for everyone. We're working day and night to make that happen, and this national campaign is proof that we're well on our way."
To register for a race, learn more about the campaign, the Life Time Tri Series and Life Time Tri Championship, check out IfINeverTri.com and LifeTimeTri.com.
About Life Time®—Healthy Way of Life
Life Time champions a healthy and happy life for its members across 128 destinations in 36 major markets in the U.S. and Canada. As the nation's only Healthy Way of Life brand, Life Time delivers an unmatched athletic resort experience and provides a comprehensive healthy living, healthy aging and healthy entertainment experience that goes well beyond fitness to encompasses the entire spectrum of daily life for individuals, couples and families of all ages. For more information visit www.lifetime.life.
# # #