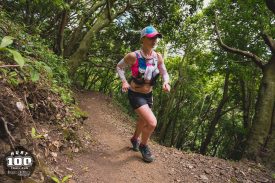 (Logan, UT — February 9, 2018) Altra announces the addition of nine new athletes to its already stellar Elite Team. With a focus on elite women, Altra signed Kaci Lickteig, Sabrina Stanley, Gina Slaby Shaw, Meredith Edwards, Kelsey Withrow and Caroline Boller. Finishing out the new additions are Aaron Fletcher and Mark Hammond.
"Altra is thrilled to welcome so many new gifted runners to our Elite Team," said Brian Beckstead, co-founder and president of Altra Footwear. "We love collaborating with all our athletes on product development and are inspired by their accomplishments."
Three of Altra's new athletes have dominated at the Western States 100-Mile Endurance Run, where Altra is the Presenting Sponsor. In 2016, Kaci Lickteig won Western States with a time of 17:57:59 and was also named 2016's Female Ultra Runner of the Year by Ultrarunning Magazine. At the 2017 race, Sabrina Stanley finished third female with a time of 20:11:41, while Mark Hammond—Ultrarunning Magazine's #5 Ultra Runner of the Year for 2017—finished third overall with a time of 16:52:57. These three new Altra athletes will be returning to the 2018 Western States with hopes of grabbing another spot on the podium.
Gina Slaby Shaw was recently named #9 Female Ultra Runner of the Year for 2017 by Ultrarunning Magazine and set a 100-mile world record with a time of 13:45:49 at the 2016 Desert Solstice 100. Caroline Boller set the 50-mile American trail record in December 2016 at Brazos Bend 50-miler with a time of 5:48:01 and won the 2017 Javelina Jundred 100k in December. Finishing out the trail runners is Meredith Edwards, a US Ski Mountaineering National Team member turned ultra runner, who finished fourth at the 2017 China FKT Yu Zhu Peak.
Rounding out the team on the road side is Aaron Fletcher, the current record holder of the St. George Marathon, set in 2017 with a time of 2:14:44. Lauren Totten has a marathon PR of 2:33:22, set at the California International Marathon in 2016, and is training to hit her goal of a 2:30 marathon in 2018. Kelsey Withrow, Altra's new triathlete addition, was a former pro cyclist who competed in nine Ironman 70.3's in 2017 and won two—the Victoria 70.3 in 04:25:11 and the Ecuador 70.3 in 04:26:11.
With the addition of these nine athletes to its already impressively stacked 21 member Elite Team, Altra has high hopes and expectations for what its athletes will accomplish in 2018.
"It's been exciting to witness the accomplishment and growth of the Altra Elite Team," said Mike McKnight, Altra's athlete manager. "As the brand grows and product evolves, so does the team, allowing us to sign new talent. We are stoked for our new additions and are looking forward to the 2018 season with lots of Altra on the podiums."
Returning members of Altra's Elite Team include:
Alissa Doehla: 8th place US Marathon Olympic Trials, 2x USATF World Championship Team Member; 2x Indiana State Track and Field Champion; USAT National Champion-Female Age Group Olympic Distance
Amanda Basham: 4th place Western States 100 Mile Endurance Run, 1st UROC, 1st USATF 50 Mile Trail Championships, 1st Black Canyon 60K,1st Transrockies Run; Top 20 Ultra Trail du Mont Blanc
Ashley Paulson: 1st in amateur and age Coeur d'Alene Ironman (Ironman World Championship qualifier), 19th in age Ironman World Championship
Calum Neff: Stroller World Record Holder for Full and Half Marathon, Canadian National 50K Champion, multiple course records and wins from 5K to 50K.
Candice Burt: 3x podium finish at HURT 100, 1st at Ultra Fiord 173K, 1st at Zion 100.
Corinna Coffin: 2nd World Spartan Race Championships
Emma Rocca: 1st & 2nd Run Rabbit Run 100 Mile, 1st Leadville 100 Mile, 2nd Hardrock 100 Mile, 5th Western States 100 Mile Endurance Run, 3rd (x2) UTMB, 2nd Marathon des Sables
Gediminas Grinius: 1st Ultra Trail Mount Fuji, 1st & 2nd Transgrancanaria 125K, 2nd, 5th & 8th UTMB, 4th Western States 100 Mile Endurance Run
Geoff Burns: 1st US 100K Road Championships, 5th IAU 100K World Championships
Ian Sharman: 8x Western States 100 Mile Endurance Run top 10, 4x Leadville 100 champion, 3x Rocky Raccoon champion, Grand Slam of Ultrarunning (record holder)
Jacob Puzey: 50 Mile Treadmill World Record, 1st Grizzly Ultra 50K, 1st Calgary Marathon 50K, 1st Mt. Hood 50 Miler, 9th Black Canyon 100K, 8th Vulcano Ultra Trail 80K
James "Iron Cowboy" Lawrence: World record for most Ironman-distance events completed in a year (30) and most Half Ironman distance events completed in a year (22), Known for his incredible "50 50 50" (50 Ironman races in 50 states in 50 days)
Jason Schlarb: 1st Hardrock 100, 1st (x2) Run Rabbit Run, 3rd Speedgoat 50K, 1st Zion 50K, Top 5 & Top 10 at TNF 50 California
Jeff "Bronco Billy" Browning: 1st Bear 100 1st HURT 100, 1st Wasatch 100, 3rd (x2) Run Rabbit Run 100, 3rd Western States 100, 2016 Western States 100 Mile Endurance Run/Hardrock 100 Double Record; #2 and #8 Ultra Runner of the Year by Ultrarunning Magazine
Kyle Pietari: 2nd x2 Leadville Trail 100, top ten x2 Western States 100 Mile Endurance Run
Nicole Kalogeropoulos: American 100 mile trail record, 1st Black Canyon 100K, top ten x2 at Western States 100 Mile Endurance Run, 3rd Run Rabbit Run 100, top 20 UTMB.
Sondre Amdahl: Top ten Marathon des Sables 250K, 4th and 6th Transgrancanaria 125K, 2nd Hong Kong Ultra 100K, 7th UTMB.
Thomas "Rivers" Puzey: 1st x2 Rock & Roll Arizona Marathon, 1st Transrockies 6 Day Run, 6th Run Rabbit Run 100, 16th Boston Marathon (Olympic Trials Qualifying Time)
Traci Falbo: American and World Record Holder Indoor Track 48 Hour Event, 4 time Team USA member, Gold Medal in World Masters 100K,1st Tunnel Hill 100 (American Trail 100 Record at the time), 1st Burning River 100, Grand Slam of Ultrarunning finisher.
Tyler McCandless: 17th USA Half Marathon Championships, 4th USA 25K Championships, 5th USA Marathon Championships.
Zach Bitter: 100 Mile American Record Holder, 12 Hour World Record Holder, 1st (course record) Javelina Jundred-100 mile, 1st USATF National 100K Road Championship, 6th IAU 100K World Championships.
About Altra
While working at a running store, Altra founder Golden Harper was frustrated that modern running shoe technology caused poor running form and had not decreased running injuries. His passion to create a shoe that followed the science produced Altra's FootShape™ toe box and Zero Drop™ platform. Since its founding in 2011, Harper and co-founder Brian Beckstead have grown Altra from one to 25 shoe styles, winning multiple Editor's Choice awards and distribution in more than 60 countries. Join the conversation @AltraRunning and #ZeroLimits on Twitter, Instagram and Facebook.
Media Contact: Colleen Logan, VP Marketing, clogan@iconfitness.com
Photo Caption: Altra's new elite athlete Sabrina Stanley at the HURT 100 where she finished third female.