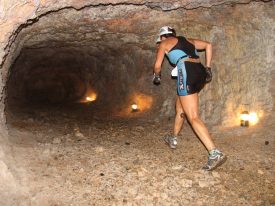 The 2017 XTERRA Asia-Pacific Tour gets underway Saturday, March 18, at the 16th annual XTERRA Saipan Championship in the Northern Mariana Islands. Sixteen elites representing 10 countries are in the remote tropical island for the challenge, including recently wed, 4x Saipan Champ Ben Allen of Australia.
The 2017 XTERRA Asia-Pacific Tour gets underway Saturday, March 18, at the 16th annual XTERRA Saipan Championship in the Northern Mariana Islands.
Sixteen elites representing 10 countries are in the remote tropical island for the challenge, including recently wed, 4x Saipan Champ Ben Allen of Australia.
"I would love to make history and win it for the fifth time, and I also want to defend my XTERRA Asia-Pacific Tour title" said Allen, who married fellow XTERRA Warrior Jacqui Slack over the weekend in Australia.
Allen will have his work cut out for him this year as the men's field is one of the deepest, fastest, and most unpredictable line-ups ever assembled for this event.
It includes Allen's perpetual Asia-Pacific Tour nemesis Bradley Weiss from South Africa, who recently finished 2nd at XTERRA South Africa to Richard Murray despite a mechanical on the bike that cost him precious time.
It also includes a pair of formidable Kiwis, Sam Osborne and Kieran McPherson, who are both coming off breakout seasons on the XTERRA World Tour.  Last year Osborne finished runner-up on the XTERRA European Tour, runner-up at the XTERRA Asia-Pacific Championship, runner-up at his hometown race in Rotorua, and runner-up at XTERRA Belgium, Italy, Germany, and Denmark.
"2016 was a good year for me, as you say a lot of 2nd's but if all the 2nd's were 1st's it would have been an incredible year, BUT, they weren't so yea I want to go and win some races this year," said Osborne. "I haven't placed a lot of pressure on myself to go and chase a win, I just want to be good at the moment, make good decisions, have good legs, and good race craft.  If I do that I'll be happy and that should bring the good results."
Osborne, like all first-timers to Saipan, is excited for the experience, saying "I didn't really know where Saipan was before I decided to come here. After consulting Uncle Google though, it looks like a pretty epic place to have a race.  And we'll see about the heat. I've had a look at the weather, and it looks like the heat isn't anything outrageous but the humidity is going get you."
As for the competition, Osborne added "There is a pretty decent field coming, especially this early in the season and to start the Asia-Pacific Tour off. Looks like we all must have had the same idea … great minds think alike!  There are the obvious hitters Benny & Brad. Brad's going well from his South African races. Benny's an Aussie and they are always crafty buggers so you've got to watch them, but he just tied the knot though so could be a bit sleep deprived.   And, there are other guys who are more than capable of stirring things up. I know Yuichi (Hosoda) from road racing, and have seen how he swims first hand when he's been in NZ for some of our races.  Fresh off Abu Dhabi, I'm sure he'll be dangerous."
As for McPherson, he finished 5th overall in his first full season on the XTERRA Pan America Tour last year and got better as the season progressed, posting a 3rd place showing at the Dominican Republic and a runner-up finish at XTERRA Mexico.
"I'm looking forward to another long and busy season," said McPherson.  "I'm still hoping to fly under the radar like last year.  My lead up has been good and I guess the rest we will all just have to wait and see."
Former XTERRA Japan Champion Takahiro Ogasawara, who was 2nd at this race last year, is joined by countrymen Yuichi Hosoda – a 2012 Olympian, and Akihiko Maeda.  Filipino star Joe Miller, who was third last year, is also back in the mix.
A pair of Austrians – Dominik Wychera and Markus Benesch – add some European Tour flavor to the race.  Wychera had three top 10's in Europe last year and finished 18th in final standings.  Benesch placed in the top 15 at Malta, Italy, and Poland and was 32nd overall.
Others on the start list include familiar faces like former Mr. XTERRA Will Kelsay, the ever-popular Michal Bucek from Hong Kong, a regular from Russia named Aleksandr Dorovskikh, and a relative unknown from Slovakia, Emil Duraj.
In the women's race Carina Wasle is back to defend her title and Mieko Carey returns to try and steal it away from her.
"I feel good and ready to race on Saturday," said Wasle, who has more than a dozen wins on the World Tour in her 12-year career. "Most of my preparation for the upcoming season I did in South Africa. It was a perfect training camp with XTERRA South Africa at the end."
Wasle was running in third position at South Africa before having to pull the plug due to cramps…"The race went well until the last 2km on the run," she explained.  "I was in a safe 3rd position, but then I started to cramp very bad and had no chance to even walk to the finish.  Now I'm in Saipan and can't wait to race on this course, it's so unique. The bike has lots of very steep climbs and some very slippery trails through the jungle, and the run is the most technical course I've ever done. It goes through the jungle, under and over trees, lots of slippery roots and rocks, a cave, and many jumps that make it a hard challenge."
For Carey, taking the quick flight from her home in Guam back to Saipan signals a return to her XTERRA roots.
"Saipan is a special place where I met XTERRA and fell in love with it," exclaimed Mieko Carey, the four-time XTERRA Japan Champion who stumbled upon XTERRA while working at the host hotel many years ago.  "Saipan changed my whole life.  It is here where I found my passion for the sport, and love for the people who all share the same goal, to Live More."
Saipan is the sports "Crown Jewel" for many reasons, chief among them an amazing course that combines a 1.5-kilometer tropical ocean swim in azure-colored water with a 30km mountain bike route that mixes technical twists with coral climbs to the highest point on the island at 1,500-feet, and finishes with one of the World Tour's signature run courses traversing heavy jungle, caves used during World War II, and white sand beaches.
"It's some of the best terrain you will ever come across," said Allen. "You get beaches, waterfalls and mountains. Plus, the people are some of the happiest in the world and always smiling, no matter what."
The people. It always comes back to the people when athletes talk about XTERRA Saipan, whether it's the friendly locals or the friendships they've made with other athletes from around the world while on the island.
"I love to come back every year to see all of my friends again," said Wasle.  "It's a very small race, but they put lots of energy and love into it, so it's good to support it. Saipan is a great place."
Mother Teresa once said "be faithful in small things because it is in them that your strength lies."
This rings true to XTERRA's faith in Saipan. Indeed, it's a small island, roughly 12 miles long and 6 miles wide, and hosts a relatively small field, around 100 racers, but it is strong in beauty, adventure, people, and history.
Some of the sports' best all-time stories originated in Saipan, from an exploding neighbor island volcano that painted the sky black with ash during the middle of the day to the tsunami threat following the 2011 Tohoku earthquake that played tricks with the ocean currents.
It's where XTERRA Hall-of-Famer Jamie Whitmore got her career kick-started and where Richard "Doc" Wall saved a man's life in the middle of the race one year.  Triathlete Magazine named XTERRA Saipan one of the 'World's Best" races in 2011, and New York Times bestselling author Marty Dugard wrote about his adventures at XTERRA Saipan in his book, To Be A Runner.
XTERRA first ventured to Saipan in 2002, and 16-years later is still taking racers through caves where Japanese soldiers hid and fought from during the Battle of Saipan in 1944.
"This race is really the epitome of XTERRA, and our motto that Mother Nature is your toughest competitor" said XTERRA World Tour managing director Dave Nicholas.
Note: The race starts on the same beach where Marines launched their attack in '44, then the bike course traverses nearly every inch of the island where the battles took place. At the American Memorial Park Museum, many who visit watch a heart-wrenching video on how it all went down, and then walk somberly through the interactive displays.  Saipan is in the middle of the Western Pacific Ocean – 1,300 miles south of Tokyo, 1,400 miles east of Manila, 3,200 miles west of Honolulu, and 2,900 miles north of Sydney.
Elite Name, Country
Ben Allen, AUS
Markus Benesch, AUT
Michal Bucek, HKG
Aleksandr Dorovskikh, RUS
Emil Duraj, SVK
Yuichi Hosoda, JPN
Will Kelsay, USA
Akihiko Maeda, JPN
Kieran McPherson, NZL
Joe Miller, PHI
Takahiro Ogasawara, JPN
Sam Osborne, NZL
Bradley Weiss, RSA
Dominik Wychera, AUT
Women
Mieko Carey, JPN
Carina Wasle, AUT
XTERRA SAIPAN ALL-TIME PRO WINNERS
Year    Men                                Women
2002    Mike Vine                         Jamie Whitmore
2003    Jason Chalker                  Jamie Whitmore
2004    Olivier Marceau               Jamie Whitmore
2005    Olivier Marceau               Renata Bucher
2006    Olivier Marceau               Renata Bucher
2007    Olivier Marceau               Renata Bucher
2008    Andrew Noble                  Renata Bucher
2009    Sam Gardner                    Renata Bucher
2010    Sam Gardner                     Renata Bucher
2011    Sam Gardner                     Shonny Vanlandingham
2012    Ben Allen                           Renata Bucher
2013    Ben Allen                           Jacqui Slack
2014    Ben Allen                           Carina Wasle
2015    Ben Allen                           Jacqui Slack
2016    Brodie Gardner                Carina Wasle