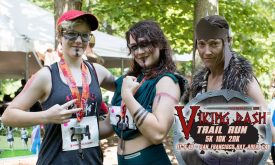 Muncie, IN — America Multi-Sport, Inc., with our partners at Support Our Society, will be hosting Viking Dash Trail Run™: San Francisco Bay Area on November 4, 2018, at Lagoon Valley Park in California. Trail Runners and Hikers will be able to participate in the 5k, 10k, or 20k. 
"We joined Viking Dash Trail Runs because of the popular trend of themed running events. VDTR is one of the fastest growing themed runs in the nation and we wanted to be part of the excitement. The support and experience of Steve and his staff was the clincher for me. Steve's staff has this dialed in and it's a no brainer to jump on his bandwagon. The course selected for this event is a hidden gem on the outlying boundaries of the San Francisco bay area. Vaca Valley Lagoon has a vast network of single and double track trails, offering a fun and challenging environment. Participants will be running on trails that date back over 200 years," said Richard Burke, owner of Support Our Society. Attendance will cap at 500 the 1st year. 
America Multi-Sport, Inc. welcomes the 17th event to the growing Viking Dash Trail Run series to the North American race calendar with many more races planned in the coming year, growing the series past 40 events by mid 2019. "We are thrilled to add Richard and his team as well as the amazing park chosen for the race. It really is the theme, branding, amazing miniature, replicas of viking weapons like the Ulfberht Sword, Ragnar Lothbrok Axe and Thor's Hammer finisher medals, costumes, post race beer, and barbecue," said Steven and Tammy Tomboni, owners of Viking Dash Trail Run™.
All participants will have the opportunity to qualify for the June 22, 2019 Viking Dash Trail Run™: National Championships in Muncie, IN for the 5k, 10k, 15k or Half Marathon.
America Multi-Sport, Inc. is currently interviewing other owners and investigating amazing venues as Viking Dash Trail Run™ has interested partners across America and Canada.
Visit www.vikingdashtrailrun.com for continued updates!
Check out Support Our Society here
About America Multi-Sport
America Multi-Sport, founded in 2010, is based in Muncie, Indiana and specializes in fitness and health related events having produced over 250 events and welcomed over 53,000 finishers in eight states. Our mission is to provide communities and individuals with extraordinary health and wellness events and services focused on Christian practices. We provide opportunities to improve spirit, mind, and body through "Life Changing Finish Lines."