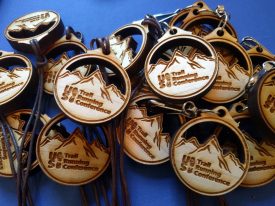 Industry leading recognition and awards provider to sponsor breakfast drinks session at 2018 Conference
Estes Park, CO – Active at Altitude, organizers of the 2018 US Trail Running Conference has announced a sponsorship agreement with Ashworth Awards. The Massachusetts based company has been helping race directors, event coordinators, coaches, industry leaders and many others for over 50 years with their industry leading recognition products and awards. Ashworth Awards has been an exhibitor at this Conference for the last two years, increasing their level of participation in the event for the first time this year.
The sixth annual US Trail Running Conference takes place in San Luis Obispo, California, on August 29-31, 2018, and is presented by the City of San Luis Obispo, CA, and Race Roster, the fastest growing endurance registration website in North America. The Conference is also held in partnership with the American Trail Running Association, and Race SLO. 
The Friday morning drinks break session presented by Ashworth Awards on August 31 will
feature commemorative bottle openers produced for the Conference, as well as providing an opportunity to sample other innovative recognition and awards products that the company can provide for attendee race directors. 
Ashworth Awards was founded in 1965 by the late Douglas R. Ashworth as a consulting manufacturer of emblematic and recognition jewelry.  Taking over as President/CEO in 2001, Daniel Ashworth has lead Ashworth Awards through numerous growths and into tremendous success in design, customer service and manufacturing.  Dan's wife, Kimberly Ashworth, joined her husband in 2003 and is the Vice President/CMO.  The leaders of Team Ashworth have a passion for endurance sports, trail racing, triathlon and health and fitness overall.  This passion has lead to numerous partnerships which have helped to expand their product offerings to include nearly limitless award and recognition products.  Dan, Kim and their team at Ashworth Awards are constantly pushing the envelope of creativity and design to help their customers offer the best possible recognition products for their athletes and participants.
Event Director Terry Chiplin commented: "We are very excited to be working again with Ashworth Awards and that they have increased their participation level for this year's  Conference in San Luis Obispo. We know from the feedback that we have heard from many satisfied race directors that Ashworth Awards are a market leader in recognition and award products, and we look forward to helping their business grow further from the engagement that will result from this year's event."
Kim Ashworth, VP/CMO at Ashworth Awards commented: "Partnering with the US Trail Running Conference shows our commitment to the endurance sports and trail running industry.  We do not consider ourselves as just another vendor to our accounts, we are their partner!  We work hand-in-hand to develop their medallion, woodallion® and award needs for their athletes. My husband, Dan, and I participate in endurance events and we understand first-hand the importance of receiving a high quality medallion/woodallions® at the finish line.  By partnering with the US Trail Running Conference we are giving back to the industry that supports our business. We love being part of the trail running community!"
Registration is open for all trail race directors, trail runners, sponsors, and exhibitors.
See www.ustrailrunningconference.com for more details, or contact Event Director, Terry Chiplin, terry@ustrailrunningconference.com, or 303-304-9159.
See https://www.ashworthawards.com/ for more details, or contact Kim Ashworth, kim@ashworthawards.com 
#TrailConference #SLOUltra #RaceSLO #shareSLO #trailrunning