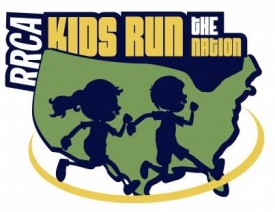 Youth running programs serving more than the 11,000 children in the U.S. to receive needed financial support to combat the inactivity crisis by getting kids active through running.
ARLINGTON, VA – November 20, 2015 – The Road Runners Club of America (RRCA) has announced its 2015 Kids Run the Nation grant recipients. Twenty-eight programs throughout the U.S. serving more than 11,000 children will receive a total of $22,760 in grants from the RRCA. In addition, the RRCA will donate more than 13,000 copies of the Kids Run the Nation: A Running Guide for Kids booklets to be given to program participants in twenty-six different programs, an in-kind donation valued at over $14,000.
One of this year's grantees is a new program called Trek Around Tazewell in Tremont, Illinois. The Tazewell County Health Department provides after school programming in 18 schools within the county. More than 450 students in kindergarten through sixth grade attend the daily after school program. The 24-week Trek Around Tazewell running program will be incorporated into the after school program and all students will participate. Students will use pedometers to track their mileage each week with the goal of reaching a total of 132 miles, which is the circumference of Tazewell County. Trek Around Tazewell will culminate with a one-mile fun run.
Also receiving a Kids Run the Nation grant this year is the Scott Scorpions Run Club in Chester, VA. Led by teachers at Elizabeth Scott Elementary School, the Scott Scorpions Run Club meets two mornings per week before school from September to April. Growing from 50 students in the club's first year, more than 250 students in second through fifth grade now run laps around the outdoor track during each session. Training culminates in a community 5K running event followed by the Healthy Family Festival each spring. To accommodate students living in one of the largest trailer parks in the school community, program leaders introduced an after school Run Club in the trailer park led by adult volunteers. Run Club members also participate in several kids runs in the area through partnerships with local adult running clubs.
"The youth running programs receiving grant funding this year represent the breadth and depth of the Kids Run the Nation Funds' impact, both geographically and demographically," said Erica Gminski, RRCA youth program coordinator.
Congratulations to the following programs:
Trek Around Tazewell – Tremont, IL
Maverick Running Club – Austin, TX
Scott Scorpions Run Club – Chester, VA
Gastineau Trail Runners – Juneau, AK
W.W. Gordon Elementary Jogging Club – North Chesterfield, VA
Manhattan Cross Country Club – Manhattan, KS
Trailblazers Running Club – Stamford, CT
Spring Mills Sprinters – Martinsburg, WV
Kids Run the Nation – George Cromwell Elementary – Glen Burnie, MD
Knoxville Youth Runs! – Knoxville, TN
Miller Fitness Challenge – Holliston, MA
Kids Run Flagstaff – Flagstaff, AZ
Rockland Road Runners Kids Program – Congers, NY
SRE Mileage Club – St. Rose, LA
Zucker Middle Running Club – North Charleston, SC
Run Away Mustangs – Bluffton, SC
SRA Kids – Sacramento, CA
Blazing Bulldogs Run Club – Tualatin, OR
Viejo Run Club – Mission Viejo, CA
Heliotrope Kids Run the Nation – Maywood, CA
Crimfit Summer Running Club – Flint, MI
McKinley Running Club – Tulsa, OK
Saint Louis Blazers – Brentwood, MO
Waupaca Mighty Milers – Waupaca, WI
Kids Run for Fun – Bloomington, IL
LOW Running Bears – Baudette, MN
Countdown to Fitness – Space Coast Final Mile – Melbourne, FL
Wise Kids In Motion – St. Paul, MN
A detailed list along with compelling profiles of this year's Kids Run the Nation grant grantees can be found at:
"The need to financially support youth running continues to grow as more evidence-based research shows that organized running programs for youth is a key component in combating childhood obesity," explained Jean Knaack, RRCA Executive Director. "Foundations and corporations need to stop funding studies on the problem of inactivity and start putting more money into funding the solution: activity programs. We received more than 275 applications for programs that are getting 75,000-plus children running regularly, and they are all deserving of financial support."
The RRCA's Kids Run the Nation program is a gender inclusive, multi-week, turnkey, youth running program designed to meet the physical activity goals outline by the United States Department of Agriculture (USDA) for children in kindergarten through sixth grade. Since 2007, the RRCA has provided over $137,000 in small grants to deserving youth running programs, serving over 80,000 children, through the Kids Run the Nation Fund. The RRCA's vision is to help establish locally managed youth running programs in every school in America.
About RRCA: 
The Road Runners Club of America (RRCA) is the oldest and largest national association of running organizations and runners dedicated to growing the sport since 1958. The RRCA champions the development of community-based running clubs and events that serve runners of all ages and abilities in pursuit of health and competition. The RRCA's vision is to see an organized and thriving running club established in every community in the U.S. To learn more, visit: www.RRCA.org