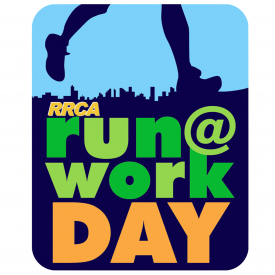 RUN@WORK and RUN@School Day is a nationwide movement on Friday, September 15 to inspire increased fitness in the workplace and at schools
Arlington, VA – The Road Runners Club of America (RRCA), the largest running organization in the country, is partnering with many employers and schools across the U.S. to promote the 12th RUN@WORK Day and 6th RUN@School Day on Friday, September 15, 2017. Through this partnership, organizations are working together to promote physical activity and healthy living within their communities and around the country.
The goal of RUN@WORK and RUN@School Day is to encourage adults and children to get 30-minutes or more of exercise each day, either in the morning, during lunch, or immediately following work or school. RUN@WORK Day encourages companies to help employees schedule time for physical activity. Incorporating exercise into one's daily routine can markedly improve one's overall physical health.
"We love seeing so many companies and schools across America getting involved in our RUN@WORK and RUN@School Day series of events," said Jean Knaack, RRCA executive director. "Participation in the 12th RUN@WORK Day and 6th RUN@School Day shows that employers and educators continue to understand the importance of promoting daily physical activity as a means of combating the continuing obesity crisis in America."
For more information about planning a RUN@WORK or RUN@School Day event, visit www.rrca.org/programs/run-at-work-day/, or contact Andy Smith, RRCA programs coordinator, by email at programs@rrca.org or by phone at 703-525-3890.
About the RRCA: The Road Runners Club of America (RRCA) is the oldest and largest national association of running organizations and runners dedicated to growing the sport since 1958. The RRCA champions the development of community-based running clubs and events that serve runners of all ages and abilities in pursuit of health and competition. The RRCA's vision is to see an organized running club established in every community in the U.S. To learn more, visit: www.RRCA.org
#          #          #