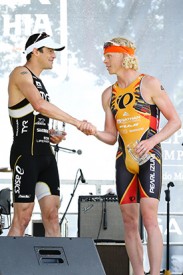 Cam Dye, Andy Potts highlight 30+ top athletes on the TriRock Philadelphia start list; Enter to win Breakfast with Andy Potts or join a Shake-Out Run with Matty Reed by registering for the Olympic race; Online registration closes on Sunday, June 15
PHILADELPHIA, PA—June 13, 2014 – The Johnson & Johnson TriRock Philadelphia Triathlon presented by Philadelphia Insurance Companies is returning for the 10th year on June 21 and 22. One of the East Coast's marquee triathlons, the event will welcome some of the top triathletes in the world for its 10th anniversary to compete for the PHLY Cup and the $25,000 prize purse.
Americans Andy Potts and Cameron Dye have been battling for first at TriRock Philadelphia Triathlon over the past few years, and they'll once again face off on June 22. Potts won the race in 2011, but Dye has had the upper hand the last two years. Potts, a Philadelphia-native who is just coming off a big win at the Escape from Alcatraz Triathlon, finished less than a minute behind Dye in second place at TriRock Philadelphia in 2012 and 2013.
Participants can be entered to win Breakfast with Andy Potts on Saturday, June 21 and receive $20 off the race entry fee by registering for the Olympic distance with code: 5150. Additionally, the first 20 people to register for the Olympic race with code: REED will be offered a chance to join Matty Reed on Saturday, June 21 for a short 5K Shake Out Run.
"We're elated to have a star-studded professional field featuring so many of America's top triathletes coming to the City of Brotherly Love to compete for PHLY Cup title as we celebrate our milestone 10th anniversary event," said Molly Quinn, VP of TriRock Triathlon Series. "Cam Dye, Andy Potts and the rest of the field are going to produce two exciting races and a well-earned title. We've enjoyed seeing the growth of the elite field this year as the number of pros participating nearly doubled."
Also vying for a place on the PHLY Cup podium will be 2008 Olympian Matty Reed (USA), 2014 CapTexTri runner-up Ben Collins (USA), 2014 Ironman Asia-Pacific Championship runner-up Paul Matthews (AUS) and 2009 Philadelphia winner David Thompson (USA). Two-time Ironman world champion Chris McCormack will also be competing in Saturday's sprint race.
In the women's race, American Alicia Kaye—who was unstoppable at non-drafting short-course races in 2013—is the favorite to take the title. Her biggest competition will come from Radka Vodickova, who has had a stellar start to the year with wins at Challenge Batemans Bay, Ironman 70.3 Putrajaya, Ironman 70.3 St. Croix and Rev3 Knoxville.
Rebeccah Wassner, a three-time New York City Triathlon winner and record holder on the Philadelphia and Columbia Triathlon courses, will also return to TriRock Philadelphia this year. Additionally, Sara McLarty, columnist for Triathlete magazine, is widely recognized as one of the fastest swimmers in triathlon and will put the heat on her competition on the swim course.
Pro triathletes will have the chance to compete in the PHLY Cup pro division, which launched in partnership with Philadelphia Insurance Companies (PHLY). The PHLY Cup will evenly split a prize purse totaling $25,000 between the men and women top finishers in the Olympic distance.
TriRock Philadelphia Triathlon will feature a Sprint distance race at 7:30 am on Saturday, June 21 and an Olympic distance race at 6:30 am on Sunday, June 22.  The weekend celebration also includes a multisport expo and kids' fun run. Like all TriRock events, Philadelphia participants will be treated to music along the course, a finisher's medal, technical t-shirt, red carpet finish, post-race breakfast and beer garden.
There are still slots open for age-groupers to compete in both the sprint and Olympic races, with online registration closing on Sunday, June 15.  For more information about the TriRock Philadelphia Triathlon or to register for the event, visit TriRockSeries.com. 
About Johnson & JohnsonCaring for the world, one person at a time…inspires and unites the people of Johnson & Johnson. We embrace research and science – bringing innovative ideas, products and services to advance the health and well-being of people. Our approximately 127,600 employees at more than 275 Johnson & Johnson operating companies work with partners in health care to touch the lives of over a billion people every day throughout the world. 
About the TriRock Triathlon Series presented by REI
Organized by Competitor Group, the TriRock Triathlon Series presented by REI has grown into one of the Nation's premier multisport event series, taking place in seven cities across the U.S. in 2014. The triathlon events feature Olympic and Sprint distances with entertainment positioned along the race route. Each event also features a finish line festival with a beer garden, hot breakfast, red carpet finish and a post-race concert. The TriRock Series is part of Competitor Group's larger triathlon platform which features a world-class triathlon series and the world's #1 triathlon website #1  magazine—Triathlete. The platform also includes Events DC Nation's Triathlon To Benefit The Leukemia & Lymphoma Society, one of the most prestigious triathlons in the United States. For more information, please visit TriRockSeries.com or follow @TriRockSeries on Twitter.
# # #